I just came across an  article in the Orange County Register.  about  the top places to live in Orange County and Huntington Beach came in second!! For me, personally, I LOVE the look and feel of Huntington Beach. I really connect with the people here, so  it is exciting to have the city where I spend so much of my time everyday named one of the Best Cities in the O.C. As a Master Hair Stylist, it feels good to be working in a city that has so much to offer it's residents and to know that I contribute to the city with my work.
Just for your information, here is an excerpt from the article in the Register:
2. Huntington Beach has:
•  Eight miles of wide, sandy beaches – the longest continuous stretch of beachfront on the West Coast. and  Big-name resorts draw tourists along the coast.   There is a strong sense of community in Huntington Beach, a city founded in the late 1880s and incorporated in 1909. That community spirit is evident in the city's wildly popular Fourth of July Parade. You also get that easygoing, beach-lifestyle feeling in Huntington.

Fan favorite: "This  city has a little bit of everything; great shopping and entertainment, relaxing recreation for your entire family (including your pets), and a nice variety of interesting places to eat. Add the wonderful ocean breeze and mild
temperature." – Marie Cox, Brea

Fun fact: Some restaurants in this dog-friendly city offer menu items for canine guests."
As a dog owner, the other thing that excites me is the dog friendly atmosphere in Huntington Beach!!  Most dogs LOVE the beach. They like to run, the love to jump into the surf and roll in the wet sand. In Huntington beach there is a group of people who well understand this and they have come together to form the The Preservation Society of Huntington Dog Beach, a 501(C)3 . Here is a quote from their website:
"Huntington Dog Beach is situated on Pacific Coast Highway between Seapoint Ave and 21st St in the beautiful city of Huntington Beach, CA. One mile of golden sands and the exciting Pacific Ocean have made Huntington Dog Beach a paradise for dogs where they can frolic in the water and taste a sense of freedom. "   I have several friends who bring their dogs to this beach on a fairly regular basis. I also have other friends who take the well loved pets to the beach in other parts of California. My  friend In Northern California brings her Golden Retrievers to a beautiful beach in Carmel. You can see in the picture above this is something which her dogs just love."
Maria Armenteros
Check out this article from InStyle about their favorite summer cuts. The styles range from chunky pixie cuts, to more long and flowing looks. Because I am a highly trained stylist, I was very please with this particular comment on Naomi Campbells latest hair style:
Our 7 Favorite Summer Haircuts
MAY 23, 2011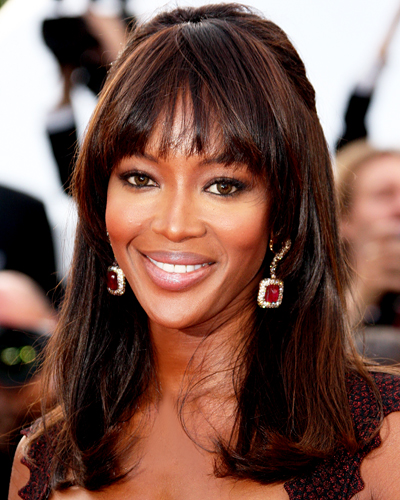 Deep Wispy Bangs
NAOMI CAMPBELL'S STYLE: One-length hair cut at the shoulders with soft bangs starting at the middle of the head.
WHAT MAKES IT COOL: "Naomi is always at events and shoots doing different things with her hair," says her hairstylist Amoy Pitters. "Because this cut has no layers, it's versatile and allows her to achieve almost any style."
WHO IT WORKS FOR: "This cut is great for heart and oval faces because it emphasizes the cheekbones and downplays the forehead," Pitters explains. "Be sure to go to a hairstylist with excellent cutting skills. There  are no layers, so it's important the length is precise."
I was watching an episode of  "What Not to Wear"  and I thought to myself, so many people don't understand  the impact of looking good. Many of the women who come on the show know somewhere inside them selves that they have given up. They are stuck with a look from 30 years ago, or 8 sizes ago, and they just don't know how to move on!! Some have dry, unmanageable hair, and it causes them embarrasment and anquish just to get ready for an outing or a professional appointment.
On the show, the two stylists, Stacey and Clinton, work together with people to try and show them how the should dress. They first explain how their current wardrobe is not working, then show people examples of what would work better. And there is also a professional Hair Sylist on the show, to help them with their look.
Once Stacey and Clinton teach them how to shop for clothing and how to dress, you can see their whole "being" transform. People who were timid and shy become more outgoing. People who were sullen, or silly, become  more upbeat and outgoing. You watch them at their reveal parties and they just strut in, twirling and proud to show off their new selves.
As a hairdresser and stylist, what means the most to me is the part of the show where the people are required to get their hair styled. So many of those men and women are attached to their hair, and fearful of changing anything about it. The women with long hair seem to be the most fearful. I must say, as a professional stylist, I understand their fear. Not everyone who has a license to cut hair is a good stylist. I have seen too many people come to me after having had their hair poorly cut by another stylist, just upset and in tears, asking me can you fix this.
Let me please say this. I invest in my business. I have been trained in some of the fines schools in the Industry, and I consistently go to seminars and training to keep my skills sharp and on the cutting edge.  Cutting hair is NOT just about technique, it is about artistry, it is about having the experience to know how to shape thin hair, versus thick hair. It's about cutting curly hair differently from straight hair. And color is another story all by itself. Think of color as chemistry. It's not like when you go to the store and buy something off the shelf. I have had to learn how to mix just the right colors, how to blend them so people's hair doesn't end up looking flat and one dimensional.
At the end of the show, after the people have gone through all of the changes, they look like and act like  whole new people, almost without exception.  If you are in a place where your look is dragging you down, then You deserve that for yourself as well!!!
Maria Armenteros
Salon Ambiance – Huntington Beach, Ca
Weddings, formals, semi-formals. It is that time of year, people get married, father's take their daughters to the Father Daughter Dances, Junior and Senior Proms, fundraising events. Women shop and shop for just the right dress for the occasion, and I asked them to do the same with their hair and make up. Once you have a dress, the very next step should be an appointment with your hairstylist. Sometimes I am not certain people are truly listening. when I write my blogs, so when I read about other professional stylists saying pretty much what I have said, it always makes me feel good.
If you did not get a chance to read my blog a couple of weeks ago, one piece of advice I gave was this: don't just plop in your stylists chair on the day of the big event, be it wedding or prom, and hope that on the first attempt you  will get  the hairstyle of your dreams. Make at least one appointment in advance to try out different styles BEFORE your special event.
 Take a look at what Kate Middelton's sylist said  in the Daily Mail,  :
"Richard Ward, who owns the London salon responsible for styling the Royal bride's hair on Friday, told how Kate, her mum Carole, 56, and sister Pippa, 27, have already had a number of dress rehearsals for their hair alone.

Richard said: 'We've had many practice runs – and not just with Kate."

Read more: http://www.dailymail.co.uk/femail/article-1381165/Royal-Wedding-Kate-Middleton-tells-hair-stylist-Prince-William-recognise-me.html#ixzz1Kkgx6QCk

 It is also critical that you end up looking like yourself. One other thing that Kate Middleton said was, it is important that William recognize her as she approaches the altar on their big day.  An intricate, fancy updo on a person who normally wears their hair long and flowing  will look unnatural. Certain dress styles call for different hair styles as well. A very structured dress may look better with hair pulled back and sleek. A loose, flowy dress will probably look better with a soft, wavy hair style.

Don't leave anything to chance on such important days, call and book a tryout session in advance.

thank you, Maria

Salon Ambiance, Huntington Beach, Ca
Hair and and skin aren't something that gets healthy and glowing just by what you put on them, they also need good nutrition and lots of water. It is important to feed your hair well!!. Now, I know that sounds silly, you can't actually feed your hair, it doesn't have a mouth, but nonetheless, what you eat, or don't eat will affect your hair.
Olive oil, fresh water, leafy green vegetables, all these things are important to good nutrition. Calcium, vitamin D and Vitamin C, all are necessary to build strong, healthy bones, teeth nails and hair. I just read an article on Lance Armstrong's site, Livestrong, that gives a detailed list of the foods good for hair:
B vitamins

B vitamins, including B6, folate, biotin and inositol, are instrumental in boosting hair health and spurring hair growth. Hair loss has been linked to a lack of B vitamins. Foods that are rich in vitamin B6 include tuna, cauliflower, mustard greens, margarine, vegetable oil, spinach, whole grains, wheat germ, liver, red and green peppers, cod and fatty fish such as salmon. Folate is found in asparagus, leafy greens, whole grains, oranges, strawberries, eggs, beans, fortified cereals and cantaloupe. Foods with biotin include soybeans, oats, green peas, walnuts, brown rice and sunflower seeds. For inositol, you can eat foods such as beets, cauliflower, eggplant, blackberries, green beans, grapefruit, limes and mandarin oranges.

Read more: http://www.livestrong.com/article/84097-foods-hair-nutrition/#ixzz1KUiARl3M

Don't forget a moderate amount of fresh air and sunshine, too. Exercise stimulates blood flow, the sun has vitamins, and the fresh air will put a blow in your skin. So, come to me for a good cut, and great color, even some fantastic products that can repair damaged hair.

 But look to your grocers for everything else you need to stay healthy, beautiful and strong.

Maria Armenteros, Huntington Beach, Salon Ambiance.
I had the pleasure of being featured again in the Summer 2010 issue of HB Magazine.  Check out the feature and one of my ads from the same magazine.
For more information about HB Magazine visit them here
Did you happen to catch the Winter 2009 issue of HB Magazine? I was featured in the issue in the Health & Wellness section about my Laser Hair Loss Treatment. Check out my article below:
For more information about HB Magazine click here