It's coming…that time of year…the event you have planned for…years in the making…YOUR WEDDING.
You spent months finding just the right location.
The invitations are ordered and they are beautiful.
You have picked out your gown and your flowers are ordered
What's next?
Wedding or Special Event Hairstyl
Your HAIR..that's what's next. And I  LOVE doing hair for very special events, Wedding Hair, Prom Hair, Fashion Shows, Cotillions, pretty much any special event you can name, I, Maria Armenteros, will give you something spectacular, or something simple and elegant. Which ever you would prefer.
I the photo above, the style is soft and elegant, and I wove just a highlight of color through her hair.  She wanted to wear it down and natural for her event.   For another event, this style was more what was called for, something different and unique.
The more information I have about the venue, your dress, and any theme you may have for your wedding, the better I can help to give you the style that is just right for your special day. I always advise women to come in at least once for a tryout before the big day.
And Men, I don't want to leave you out on this special day, it is just as important you look your very best, too. We can work on getting just the right style for Grooms, Groomsmen, Brides, Bridesmaids and Mothers and Fathers of the bride…
Maria Armenteros – Huntington Beach, CA
Hair gets Frizzy for several different reasons, and you can have just one of those issues with your hair, or all of them. I won't get very technical here, but I will till you that humidity is the biggest cause of hair frizz. Some of your frizziness can be caused by over heated appliances.  The next biggest cause is poor nutrition, and last but not least is that thing we call stress. When you are under stress your body uses up nutrients more quickly, and if you do not eat properly, those nutrients are not getting put back into your system.
If you combine any of these you have a very strong chance of having frizzy hair. Many of my customers have hair that is neither curly, nor straight. It has waves. Curly  hair, as long as it is not frizzy as well, is fun, and full of whimsy. Look at these two pictures.
On the left, her hair looks dry and unmanageable, on the right, soft and pretty. You can straighten the look with one of several methods I use for my clients. It just depends upon the look you are in the mood for.
We are running a special this week on hair smoothing, offering 25% off of any type of hair smoothing you choose, from a Keratin treatment, to deep conditioning.
BUT if you just want your hair to be soft and look healthy, we don't have to straighten it, we can just do another type of treatment for you…
Give me a call at 562.972.5006     and we can talk about what you want to do, and decide the best way to go.
Or you can text me at that same number, I will get back to you as soon as I can.
thank you
Maria Armenteros
Summer Cuts…
People ask me all the time, Maria, what should I do with my hair for  the summer?
I  have customers who love their long hair.  I also have customers who love their short, sassy hair.
Then there are the ones who  like to change their styles up for each  season. They are committed neither to short,  nor long hair. In the world of hair, there are no hard and fast rules, there is simply what makes you feel beautiful. Summer is the perfect time for wash and go hair. After a day at the beach, or the pool, who wants to spend too much time in the bathroom with a hot blowdryer, styling their hair?  If I cut your hair to just about shoulder length, with a little bit of layering to keep it feeling light, it could become your perfect summer cut!!!
At shoulder length, your hair is still long enough to throw up into a chic ponytail at the beach. For after beach, it's  short enough so you can  blow it dry fairly quickly . If the summer sun, salt water, and chlorine are drying out your hair, we can also do a deep conditioning treatment to keep your hair  soft and silky all summer long.
For me, personally, I like to have options, so that  I can wear my hair in a way that reflects my mood. Casual and tousled some days, sleek and professional on others and a devil may care pony tail here and there…Here is another good summer cut for you busy girls on the run
Maria Armenteros
Check out this article from InStyle about their favorite summer cuts. The styles range from chunky pixie cuts, to more long and flowing looks. Because I am a highly trained stylist, I was very please with this particular comment on Naomi Campbells latest hair style:
Our 7 Favorite Summer Haircuts
MAY 23, 2011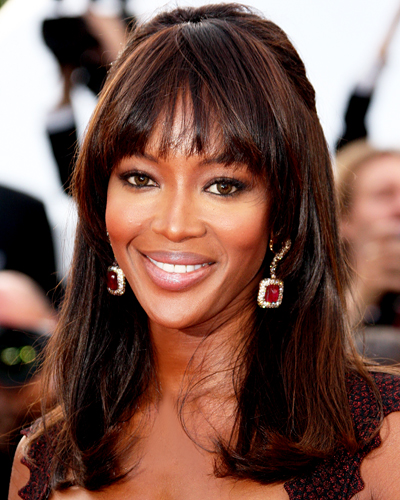 Deep Wispy Bangs
NAOMI CAMPBELL'S STYLE: One-length hair cut at the shoulders with soft bangs starting at the middle of the head.
WHAT MAKES IT COOL: "Naomi is always at events and shoots doing different things with her hair," says her hairstylist Amoy Pitters. "Because this cut has no layers, it's versatile and allows her to achieve almost any style."
WHO IT WORKS FOR: "This cut is great for heart and oval faces because it emphasizes the cheekbones and downplays the forehead," Pitters explains. "Be sure to go to a hairstylist with excellent cutting skills. There  are no layers, so it's important the length is precise."
I am a woman in business!! As a matter of fact I am a woman in TWO businesses!! For hair styling, I work at Salon Ambience in Huntington Beach, and to take careof the rest of your body and soul, I own http://ambiancemedspahb.com/about-us/also in Hungtington Beach.
Owning my business has felt like the right option for me. I get to run my business my way, hire good people, take excellent care of my customers and invest my time in something that gives back to my community. It is not easy owning your own business. I have heard my friends with regular jobs  say " Boy, I should open up my own business, then I can make my own hours, and just work when I want.". Most businesses that are sucessful don't work that way. My hours have to be convenient for my clients. I have to be the stylist, the cosmetologist, the book keeper, the appointment maker and the manager of several people who work in my organization.
It is not easy, and sometimes it's down right hard, but it is always rewarding and these businesses are MINE. I can change what is not working, I can implement new things, and some things I can keep the same, because that is what my clients are happy with.
I was just reading some interesting informationa about women owned business at NAWBO and I found these statistics:
Women Owned Business in the United  States:
10.1 million firms are owned by women (50% or more), employing more than 13
million people, and generating $1.9 trillion in sales as of 2008.
Three quarters of all women-owned businesses are majority owned by women
(51% or more), for a total of 7.2 million firms, employing 7.3 million people,
and generating $1.1 trillion in sales.
Women-owned firms (50% or more) account for 40% of all privately held firms.
Women Owned Business is one of the fastest growing sectors of the business community. I know why I own my businesses, I can't speak for others. For me it is all of the reasons I stated in this blog, and more. It is a sense of pride in the work I do, and the feeling I get when a customer leaves my place feeling happy, beautiful and confident!
Thank you all for supporting me in my endeavors!!
Maria Armenteros
Are you always struggling to achieve that voluminous hair style you desire? Does your hair always fall flat after a couple hours? We have all experienced the disappoint of styling our hair only to have it lose its volume in a matter of hours.
Here are some simple tips from the April 2008 issue of Ladies Home Journal for achieving a fuller everyday style:
Towel drying is your friend: Once out of the shower, scrunch hair at the root with your towel instead of smoothing it down and away from the head.
Blow it bigger: Use volumizer and spray it on the roots. Bend your head down and direct the air towards the scalp and not the ends.
Hotter is not better: Use the low and medium settings on your blow dryer. Hair dries and deflates when very hot air is used. It may dry your hair faster but it is doing more damage.
Don't spray down – Spray up: If you hair needs hold, lift hair away from the scalp and mist lightly aerosol spray on to it from underneath. This pushes the hair up and out and does not create a helmet-like shell that flattens the hair.
Give your brush a break: Do not brush after blow drying because it pushes the hair down. An alternative is using your fingers to lift, arrange and fluff your hair.
Be mindful of your part: If you part your hair make sure the part is short and just a couple inches long. If you do this you can push the hair on your crown around so there is volume where you need it. Another good way to increase volume with a part is to flip your part to the opposite side during the day and this will give you some added volume because it bends the hair in a new direction.
Don't be afraid to fake it: With so many new and high quality pieces out there don't be afraid of partial hair peices. Pieces like ponytails, falls and  clip in extensions make your hair more voluminous instantly. If using clip in extensions clip them right above the thin areas and use your fingers to fluff them into your real hair.