Check out this article from InStyle about their favorite summer cuts. The styles range from chunky pixie cuts, to more long and flowing looks. Because I am a highly trained stylist, I was very please with this particular comment on Naomi Campbells latest hair style:
Our 7 Favorite Summer Haircuts
MAY 23, 2011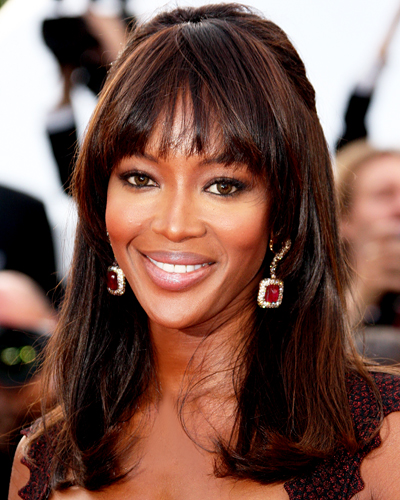 Deep Wispy Bangs
NAOMI CAMPBELL'S STYLE: One-length hair cut at the shoulders with soft bangs starting at the middle of the head.
WHAT MAKES IT COOL: "Naomi is always at events and shoots doing different things with her hair," says her hairstylist Amoy Pitters. "Because this cut has no layers, it's versatile and allows her to achieve almost any style."
WHO IT WORKS FOR: "This cut is great for heart and oval faces because it emphasizes the cheekbones and downplays the forehead," Pitters explains. "Be sure to go to a hairstylist with excellent cutting skills. There  are no layers, so it's important the length is precise."
Have you ever noticed, when you see pictures of some of the more famous Hollywood starlets, their hair can grow or shrink several inches between photos? It doesn't actually grow, but they do have well paid, highly sough after stylists who "grow" their hair for them. It's called Hair Extensions
You can buy cheap ones in those Kiosks at some malls, but it's best to have me put the good ones in for you. I have a training video from my supplier, it will show you everything that goes into putting on Hair extensions, take a look and tell me what you think. Or better yet, call me when it's over and I can put some in for you!!!
http://www.youtube.com/user/NXSBeauty#p/u/0/q1yxhopXHWs
Maria Armenteros
Huntington Beach
Salon Ambiance.
Summer time and the livin is easy. Summer weather can make your hair fall flat from humidity, or cause  the culy hairs to  frizz. Blow dyer's make you  hot, and the ocean is cool.
 Maybe it's time for an easy maintenance, wash and go style for the summer.Whether is be short and cropped, shoulder length and angular, or longer, with bangs, so it looks good in a pony tail!!
Ginnifer Goodwin's cool summer do!!
Check out what some of these celebrities have done:
Short and sweet for the summer. Just wash, condition, a little mouse or gel and you are out the door.
Halle Barry has gone back to her short cropped look for the season, and a couple of my own clients have taken off some length to keep the back of their necks cool during the hot, lazy days of summer.
Jennifer Aniston has shortened her long locks to an edgier style bob for her summer do:
Here in Huntington Beach, we are by the beach, and we get to see all the latest styles that people are wearing for summer. As a stylist with a flair for the dramatic, I love helping my people try something new. Hair grows, so no one style has to last forever. Don't get stuck in a rut, dare to try something new.
Weddings, formals, semi-formals. It is that time of year, people get married, father's take their daughters to the Father Daughter Dances, Junior and Senior Proms, fundraising events. Women shop and shop for just the right dress for the occasion, and I asked them to do the same with their hair and make up. Once you have a dress, the very next step should be an appointment with your hairstylist. Sometimes I am not certain people are truly listening. when I write my blogs, so when I read about other professional stylists saying pretty much what I have said, it always makes me feel good.
If you did not get a chance to read my blog a couple of weeks ago, one piece of advice I gave was this: don't just plop in your stylists chair on the day of the big event, be it wedding or prom, and hope that on the first attempt you  will get  the hairstyle of your dreams. Make at least one appointment in advance to try out different styles BEFORE your special event.
 Take a look at what Kate Middelton's sylist said  in the Daily Mail,  :
"Richard Ward, who owns the London salon responsible for styling the Royal bride's hair on Friday, told how Kate, her mum Carole, 56, and sister Pippa, 27, have already had a number of dress rehearsals for their hair alone.

Richard said: 'We've had many practice runs – and not just with Kate."

Read more: http://www.dailymail.co.uk/femail/article-1381165/Royal-Wedding-Kate-Middleton-tells-hair-stylist-Prince-William-recognise-me.html#ixzz1Kkgx6QCk

 It is also critical that you end up looking like yourself. One other thing that Kate Middleton said was, it is important that William recognize her as she approaches the altar on their big day.  An intricate, fancy updo on a person who normally wears their hair long and flowing  will look unnatural. Certain dress styles call for different hair styles as well. A very structured dress may look better with hair pulled back and sleek. A loose, flowy dress will probably look better with a soft, wavy hair style.

Don't leave anything to chance on such important days, call and book a tryout session in advance.

thank you, Maria

Salon Ambiance, Huntington Beach, Ca
Hair and and skin aren't something that gets healthy and glowing just by what you put on them, they also need good nutrition and lots of water. It is important to feed your hair well!!. Now, I know that sounds silly, you can't actually feed your hair, it doesn't have a mouth, but nonetheless, what you eat, or don't eat will affect your hair.
Olive oil, fresh water, leafy green vegetables, all these things are important to good nutrition. Calcium, vitamin D and Vitamin C, all are necessary to build strong, healthy bones, teeth nails and hair. I just read an article on Lance Armstrong's site, Livestrong, that gives a detailed list of the foods good for hair:
B vitamins

B vitamins, including B6, folate, biotin and inositol, are instrumental in boosting hair health and spurring hair growth. Hair loss has been linked to a lack of B vitamins. Foods that are rich in vitamin B6 include tuna, cauliflower, mustard greens, margarine, vegetable oil, spinach, whole grains, wheat germ, liver, red and green peppers, cod and fatty fish such as salmon. Folate is found in asparagus, leafy greens, whole grains, oranges, strawberries, eggs, beans, fortified cereals and cantaloupe. Foods with biotin include soybeans, oats, green peas, walnuts, brown rice and sunflower seeds. For inositol, you can eat foods such as beets, cauliflower, eggplant, blackberries, green beans, grapefruit, limes and mandarin oranges.

Read more: http://www.livestrong.com/article/84097-foods-hair-nutrition/#ixzz1KUiARl3M

Don't forget a moderate amount of fresh air and sunshine, too. Exercise stimulates blood flow, the sun has vitamins, and the fresh air will put a blow in your skin. So, come to me for a good cut, and great color, even some fantastic products that can repair damaged hair.

 But look to your grocers for everything else you need to stay healthy, beautiful and strong.

Maria Armenteros, Huntington Beach, Salon Ambiance.
This is not my first blog about the Brazilian Blowout. But most recently I have had people come up and ask me, what is a Brazilian Blow Out?  Must you be Brazilian to get one?  How much does it cost? Will it hurt my hair  or be good for it?
 While I am not a chemist I do know that it is safe when done properly, and it leaves curly, frizzy hair soft and shining. Here is one definition I found out on the web:" By creating a protective layer of keratin(a fibrous protein that makes up 85% of the human hair structure), the Brazilian Blowout in fact improves the condition of the hair and retains the natural volume and body."  So that you can try it for yourslef, I am going to make it my special this week:
 A BRAZILIAN BLOW OUT AND HAIR  CUT  !!
NORMALLY $300.00, FOR THIS WEEK ONLY $200.00 !!
 You may have heard from some that Brazilian Blowout contains harmful chemicals. While there are hair straightening methods that use harmful chemicals like formaldehyde, that is not what makes up a Brazilian Blowout. 
Come on in and try it out!!!
Maria  562-972-5006
I have been watching a little bit of American Idol, and for me, as a Spa owner and Professional Hair Stylist, I am more fascinated by the Hair and Makeup than the singing. I guess that because of my profession, that is just where my eyes land first!!!
Jennifer understands the affect of Beautiful Hair!!
I love both Jennifer's and Steven Tyler's hair. I don't want to say for certain, but I wouldn't be surprised if maybe Jennifer  has a hair  extension or two in and amongst all of  her own beautiful hair. She is of Puerto Rican descent, so her natural color is darker. Her hair is highlighted, to perfection for her warm skin tones, and I can tell she uses good products for her hair type.
Steven is another thing all together. His hair is all about sex appeal and fun. It seems each week he has more feathers in his hair. And Hair extensions? I am not sure about that. I am sure that he also takes very good care of his hair. It is shiny, and falls in gentle waves around his face.
Both of these stars know full well that hair is NOT an afterthought!! It is your fifth accessory!! Good shoes, Clear Skin, great smile, well fitting clothes, and GREAT HAIR.
I have helped so many good people who come to me with frizzy or over processed hair. I know what products to use to help them restore their hair to its natural beauty. And when mother nature does not get it quite right, well I can help with that as well. Our hair color products are some of the finest you can buy, and I have been carefully trained to use them to your best advantage!!
See you soon,
Maria Armenteros
Are you always struggling to achieve that voluminous hair style you desire? Does your hair always fall flat after a couple hours? We have all experienced the disappoint of styling our hair only to have it lose its volume in a matter of hours.
Here are some simple tips from the April 2008 issue of Ladies Home Journal for achieving a fuller everyday style:
Towel drying is your friend: Once out of the shower, scrunch hair at the root with your towel instead of smoothing it down and away from the head.
Blow it bigger: Use volumizer and spray it on the roots. Bend your head down and direct the air towards the scalp and not the ends.
Hotter is not better: Use the low and medium settings on your blow dryer. Hair dries and deflates when very hot air is used. It may dry your hair faster but it is doing more damage.
Don't spray down – Spray up: If you hair needs hold, lift hair away from the scalp and mist lightly aerosol spray on to it from underneath. This pushes the hair up and out and does not create a helmet-like shell that flattens the hair.
Give your brush a break: Do not brush after blow drying because it pushes the hair down. An alternative is using your fingers to lift, arrange and fluff your hair.
Be mindful of your part: If you part your hair make sure the part is short and just a couple inches long. If you do this you can push the hair on your crown around so there is volume where you need it. Another good way to increase volume with a part is to flip your part to the opposite side during the day and this will give you some added volume because it bends the hair in a new direction.
Don't be afraid to fake it: With so many new and high quality pieces out there don't be afraid of partial hair peices. Pieces like ponytails, falls and  clip in extensions make your hair more voluminous instantly. If using clip in extensions clip them right above the thin areas and use your fingers to fluff them into your real hair.