Elizabeth Banks, soft waves, shoulder length
If you need a good haircut, well, you have come to the right place. I nicknamed my business Hair by Maria. But truly, most of the time it is Hair by Maria and You!!  You tell me the look you want, I tell you if it will suit your face  and together we make something beautiful.
Sometimes the most difficult part of my profession as a Master Sylist and Colorist is to tell someone their face and hair are just not suited for a certain style.
Fine Hair is not going to lay the same way as thick hair. Thicker hair doesn't always take to small, choppy layering as well as fine hair does. A round face will look better with some layers close to the face rather than all one length.
I do want to say that I am not someone who disregards my clients wishes and just does what I want to do. I am not talking about that. But if my people come to me and they want a style that will just not make them look beautiful, I have to work with them to find the flavor of the style they want, while giving them a cut that will let them leave my chair feeling happy and beautiful. They say that in life there must be some measure of compromise. I like to compromise. Not on the quality of my work, mind you, but on the style…
So for today, I will call my business Hair by Maria and You….
Maria Armenteros
Summer Cuts…
People ask me all the time, Maria, what should I do with my hair for  the summer?
I  have customers who love their long hair.  I also have customers who love their short, sassy hair.
Then there are the ones who  like to change their styles up for each  season. They are committed neither to short,  nor long hair. In the world of hair, there are no hard and fast rules, there is simply what makes you feel beautiful. Summer is the perfect time for wash and go hair. After a day at the beach, or the pool, who wants to spend too much time in the bathroom with a hot blowdryer, styling their hair?  If I cut your hair to just about shoulder length, with a little bit of layering to keep it feeling light, it could become your perfect summer cut!!!
At shoulder length, your hair is still long enough to throw up into a chic ponytail at the beach. For after beach, it's  short enough so you can  blow it dry fairly quickly . If the summer sun, salt water, and chlorine are drying out your hair, we can also do a deep conditioning treatment to keep your hair  soft and silky all summer long.
For me, personally, I like to have options, so that  I can wear my hair in a way that reflects my mood. Casual and tousled some days, sleek and professional on others and a devil may care pony tail here and there…Here is another good summer cut for you busy girls on the run
Maria Armenteros
I just read an article about people cutting their own hair to save money. Now, you would think a stylist would tell you it is a colossaly bad idea to cut your own hair. I say, go for it. Then call me, and I will fix the damage.
Yes, cutting hair is simple and easy, just grab some shears and hack away. Styling hair to make it fall properly, to look full and lush, well that takes artistry and training.
I have spent years studying to become a Master Stylist. I have spent years learning and updating my credentials to become a Master Colorist.
Sassoon training is only one aspect of my background, but I thought it might be the most recognizable to all of you. Rather then me trying to explain how it works, I thought I would quote from one of the masters. Listen to what he has to say:
DD: In manuals such as "Cutting Hair the Vidal Sassoon Way" (1978), there is a chapter entitled "The Psychology of Haircutting" with a paragraph on bone structure. How important is anatomy in hairdressing?
Vidal Sassoon: No question: analysing faces, knowing bones, studying the height of the bones before you cut and making sure that the cut will look well from every angle is extremely important. Haircutting is not just about sitting someone in a chair and going 'chop chop chop', it's really about studying the anatomy of the person you are working on.

To see the rest of the article you can go to:

http://www.dazeddigital.com/artsandculture/article/7468/1/scissors-revolution-vidal-sassoon-the-movie
Designing the best style for your hair type, the way your hair lays naturally, cutting it just right so that when you style your hair at home it looks just as good as when I style it at the salon. Being confident enough to tell you when a cut will NOT work with your hair and face. Working WITH you to make you look your best.
Ask people who have had a bad cut how much that affected their lives. To save a few bucks you can end up with weeks or months of bad hair days. I don't think that's the best way to save money, do you?
Maria Armenteros
Salon Ambiance, Huntington Beach, Ca
Check out this article from InStyle about their favorite summer cuts. The styles range from chunky pixie cuts, to more long and flowing looks. Because I am a highly trained stylist, I was very please with this particular comment on Naomi Campbells latest hair style:
Our 7 Favorite Summer Haircuts
MAY 23, 2011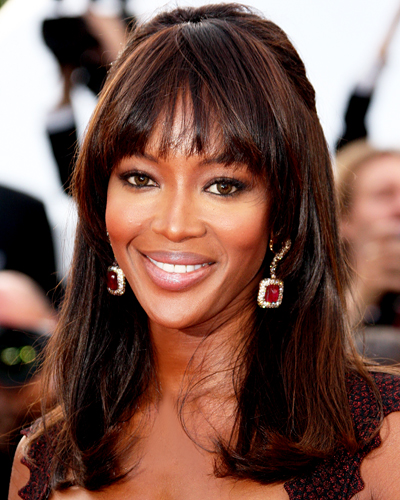 Deep Wispy Bangs
NAOMI CAMPBELL'S STYLE: One-length hair cut at the shoulders with soft bangs starting at the middle of the head.
WHAT MAKES IT COOL: "Naomi is always at events and shoots doing different things with her hair," says her hairstylist Amoy Pitters. "Because this cut has no layers, it's versatile and allows her to achieve almost any style."
WHO IT WORKS FOR: "This cut is great for heart and oval faces because it emphasizes the cheekbones and downplays the forehead," Pitters explains. "Be sure to go to a hairstylist with excellent cutting skills. There  are no layers, so it's important the length is precise."
I am a woman in business!! As a matter of fact I am a woman in TWO businesses!! For hair styling, I work at Salon Ambience in Huntington Beach, and to take careof the rest of your body and soul, I own http://ambiancemedspahb.com/about-us/also in Hungtington Beach.
Owning my business has felt like the right option for me. I get to run my business my way, hire good people, take excellent care of my customers and invest my time in something that gives back to my community. It is not easy owning your own business. I have heard my friends with regular jobs  say " Boy, I should open up my own business, then I can make my own hours, and just work when I want.". Most businesses that are sucessful don't work that way. My hours have to be convenient for my clients. I have to be the stylist, the cosmetologist, the book keeper, the appointment maker and the manager of several people who work in my organization.
It is not easy, and sometimes it's down right hard, but it is always rewarding and these businesses are MINE. I can change what is not working, I can implement new things, and some things I can keep the same, because that is what my clients are happy with.
I was just reading some interesting informationa about women owned business at NAWBO and I found these statistics:
Women Owned Business in the United  States:
10.1 million firms are owned by women (50% or more), employing more than 13
million people, and generating $1.9 trillion in sales as of 2008.
Three quarters of all women-owned businesses are majority owned by women
(51% or more), for a total of 7.2 million firms, employing 7.3 million people,
and generating $1.1 trillion in sales.
Women-owned firms (50% or more) account for 40% of all privately held firms.
Women Owned Business is one of the fastest growing sectors of the business community. I know why I own my businesses, I can't speak for others. For me it is all of the reasons I stated in this blog, and more. It is a sense of pride in the work I do, and the feeling I get when a customer leaves my place feeling happy, beautiful and confident!
Thank you all for supporting me in my endeavors!!
Maria Armenteros
Have you ever noticed, when you see pictures of some of the more famous Hollywood starlets, their hair can grow or shrink several inches between photos? It doesn't actually grow, but they do have well paid, highly sough after stylists who "grow" their hair for them. It's called Hair Extensions
You can buy cheap ones in those Kiosks at some malls, but it's best to have me put the good ones in for you. I have a training video from my supplier, it will show you everything that goes into putting on Hair extensions, take a look and tell me what you think. Or better yet, call me when it's over and I can put some in for you!!!
http://www.youtube.com/user/NXSBeauty#p/u/0/q1yxhopXHWs
Maria Armenteros
Huntington Beach
Salon Ambiance.
I was watching an episode of  "What Not to Wear"  and I thought to myself, so many people don't understand  the impact of looking good. Many of the women who come on the show know somewhere inside them selves that they have given up. They are stuck with a look from 30 years ago, or 8 sizes ago, and they just don't know how to move on!! Some have dry, unmanageable hair, and it causes them embarrasment and anquish just to get ready for an outing or a professional appointment.
On the show, the two stylists, Stacey and Clinton, work together with people to try and show them how the should dress. They first explain how their current wardrobe is not working, then show people examples of what would work better. And there is also a professional Hair Sylist on the show, to help them with their look.
Once Stacey and Clinton teach them how to shop for clothing and how to dress, you can see their whole "being" transform. People who were timid and shy become more outgoing. People who were sullen, or silly, become  more upbeat and outgoing. You watch them at their reveal parties and they just strut in, twirling and proud to show off their new selves.
As a hairdresser and stylist, what means the most to me is the part of the show where the people are required to get their hair styled. So many of those men and women are attached to their hair, and fearful of changing anything about it. The women with long hair seem to be the most fearful. I must say, as a professional stylist, I understand their fear. Not everyone who has a license to cut hair is a good stylist. I have seen too many people come to me after having had their hair poorly cut by another stylist, just upset and in tears, asking me can you fix this.
Let me please say this. I invest in my business. I have been trained in some of the fines schools in the Industry, and I consistently go to seminars and training to keep my skills sharp and on the cutting edge.  Cutting hair is NOT just about technique, it is about artistry, it is about having the experience to know how to shape thin hair, versus thick hair. It's about cutting curly hair differently from straight hair. And color is another story all by itself. Think of color as chemistry. It's not like when you go to the store and buy something off the shelf. I have had to learn how to mix just the right colors, how to blend them so people's hair doesn't end up looking flat and one dimensional.
At the end of the show, after the people have gone through all of the changes, they look like and act like  whole new people, almost without exception.  If you are in a place where your look is dragging you down, then You deserve that for yourself as well!!!
Maria Armenteros
Salon Ambiance – Huntington Beach, Ca
Everyone loves to talk about celebrity hair and everyone loves to comment on their favorite celebrities new hair styles. You might have noticed that some of your favorite actresses have long flowing locks one day and then a cute short bob the next. This phenomena is what some like to call the Faux Bob. This short do is great for the everyday women when she feels like spicing up her look and a great addition to your Halloween costume.
Here are some easy steps from Bella Sugar for achieving this quick transformation:
"STEP 1: Pull hair back into a low ponytail with a hair tie that blends in with the color of your hair. (Goody makes some inexpensive ones.)
STEP 2: Tuck the ponytail under and secure it with bobby pins to hold your hair firmly in place.
STEP 3: Next, pull a generous amount of hair from the tops and the sides to create the illusion that your hair is down.
STEP 4: Lastly, curl the loose hairs with a curling iron so they shorten and look more voluminous. Mist your entire head with hairspray and then loosely pin back any extra long hairs to create an overall shorter appearance!"
Don't be afraid to experiment with new looks! This is a great way to find out if you want that short bob or a great alternative to getting that short do.
Photo: InStyle Weddings