If you have long hair, and you are in a hurry, what do you do with your hair? You put it up in a Ponytail!!Ponytails are  comfortable and is one of the easiest things to style. But they don't have to be plain Jane . If you have medium or long hair, it is  easy to  spice things up to keep your ponytail from being boring.
We've compiled a list of easy styles you can try when you just want something simple:
If you want a more elegant pony tail for an evening out, curl you hair first, then don't pull your hair back too tightly, leave a bit of room in the front, put the band around the back part of your hair, and push the front part forward just a little.
For something a bit different, try wearing your pony tail with a head band. Make a rough ponytail with your locks covering the side of your forehead. Just add a hair band without taking the strands of hair aside. If you use a hair band with jewels or crystals that will add another layer of glamour for the evening look.
A good one to do with straight hair is the beehive. This is a popular nighttime hairstyle, but it takes a little more time. Simply make a beehive in the front, then use hair clips to keep it in place. Again, you can leave a ponytail in the back or move it to the side.
If you're out of hairstyle ideas in the morning, adding a simple ponytail in the morning can give your head a fresh new look!
For those of you looking for a sleek evening look, and you don't quite have the pony tail knack, come on in, I can help you!!
Most of the time when we think hair extensions, we think of straight, soft, silky hair. But there is an alternative option when it comes to extensions. Many stars like Rihanna and Beyoncé change up their hair like they change up their socks. They go from short black Mohawks, to long and wavy red hair. Even if you have straight hair, we can use these curly hair extensions to give you a whole new look..
People ask me, Maria, where do hair extensions come from? I don't know where all the different types of hair extensions come from, but I mainly use a product from a company called Hairdreams. I have studied the different companies and their product line and I settled on this company because I felt they consistently had  the highest  quality. Instead of rewriting what they alread have in their product literature, I will just give you a quote from their website, Hairdreams.com:
Where does the hair come from?

Hairdreams attaches great importance to the choice of its hair. You can choose from the two different hair qualities Hairdreams 7 star SPECIAL and Hairdreams 5 star: The luxurious  Hairdreams 7 star SPECIALquality is raw hair of European type in all natural  colors ranging from blonde to dark brown, which come from all over the world. Specially trained Hairdreams representatives select and collect this hair according to highest quality standards. This hair has to be virgin hair (neither colored nor chemically treated) and it can't be damaged in any way. After it has been collected, the raw hair is hand-selected and hand-sorted, hair by hair, in an elaborate and labor-intensive process. This process of hand-selection takes about 10 days for an average hair extension.

We make this enormous effort so that the color of the hair only has to be  changed slightly in order to match the natural hair spectrum. The refinement process puts such minimal chemical strain on it that one can really almost speak of virgin hair. The result: Hairdreams Special is the absolute  indulgence in hair extensions because it has not been chemically lightened and therefore has retained its perfectly elastic surface. For you, the client, it is important that Hairdreams Special Hair can be re-used for up to two years depending on
hair style and care."
Installing them takes equal care and patience. I have had extensive training on the proper methods of applying the different styles and textures of hair extension, so they always look luxurious and natural. The procedure is not quick, but the end result is worth it.
Give me a call and I can tell you more about it…
Maria Armenteros
Hair by Maria…
Thanks for stopping by…
This week the company I use as my supplier for Hair Extensions let me know Kim Kardashian uses the same type of extensions I sell to my customers. Now, please, I have not called Kim or Kris to confirm this fact myself. I am taking the word of HairDreams Usa.
Hair Extensions serve several functions. For those of us who love to change up our styles often, hair extensions  give us options.
If you find that shoulder length hair is just right for you most of the time, but for special occasions, or just to change the mood, it would be fun to have long hair, I can do that for you with Hairdreams extensions.

I have customers who would love to put a little color in the hair, but they aren't ready to commit to having a deep red stripe in the hair for a few months.  Hair extensions can be the perfect solution.  AND HAIR EXTENSIONS  ARE NOT JUST for WOMEN, men use them as well. Look at what the people from Hairdreams have to say :
Real Human hair extensions are not only the perfect choice for chic styling but also a natural alternative to normal highlights. They come in a vast array colours from natural tones to vibrant powerful colours.
All colours are characterized by their outstanding brilliance and durability. They allow for a variety of trendy colour effects and are gentle and harmless to the natural hair.

A positive side effect is that hair extensions also, simply, provide a greater amount of hair for extra fullness and volume. The huge variety of combinations of colours, lengths and structures allows for an almost endless number of creative hairstyles. With just a few strands, you can produce striking effects."

Head over to their site and take a peekat some of the beautiful colors and styles:
Check out this article from InStyle about their favorite summer cuts. The styles range from chunky pixie cuts, to more long and flowing looks. Because I am a highly trained stylist, I was very please with this particular comment on Naomi Campbells latest hair style:
Our 7 Favorite Summer Haircuts
MAY 23, 2011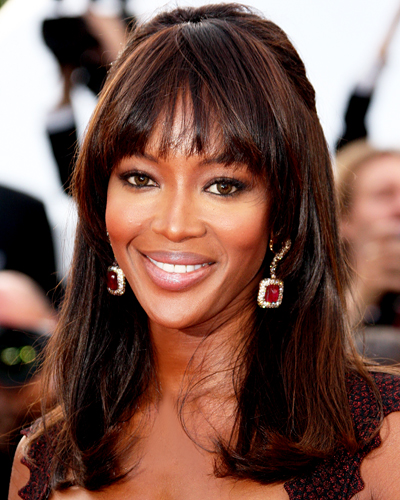 Deep Wispy Bangs
NAOMI CAMPBELL'S STYLE: One-length hair cut at the shoulders with soft bangs starting at the middle of the head.
WHAT MAKES IT COOL: "Naomi is always at events and shoots doing different things with her hair," says her hairstylist Amoy Pitters. "Because this cut has no layers, it's versatile and allows her to achieve almost any style."
WHO IT WORKS FOR: "This cut is great for heart and oval faces because it emphasizes the cheekbones and downplays the forehead," Pitters explains. "Be sure to go to a hairstylist with excellent cutting skills. There  are no layers, so it's important the length is precise."
Have you ever noticed, when you see pictures of some of the more famous Hollywood starlets, their hair can grow or shrink several inches between photos? It doesn't actually grow, but they do have well paid, highly sough after stylists who "grow" their hair for them. It's called Hair Extensions
You can buy cheap ones in those Kiosks at some malls, but it's best to have me put the good ones in for you. I have a training video from my supplier, it will show you everything that goes into putting on Hair extensions, take a look and tell me what you think. Or better yet, call me when it's over and I can put some in for you!!!
http://www.youtube.com/user/NXSBeauty#p/u/0/q1yxhopXHWs
Maria Armenteros
Huntington Beach
Salon Ambiance.
I was watching an episode of  "What Not to Wear"  and I thought to myself, so many people don't understand  the impact of looking good. Many of the women who come on the show know somewhere inside them selves that they have given up. They are stuck with a look from 30 years ago, or 8 sizes ago, and they just don't know how to move on!! Some have dry, unmanageable hair, and it causes them embarrasment and anquish just to get ready for an outing or a professional appointment.
On the show, the two stylists, Stacey and Clinton, work together with people to try and show them how the should dress. They first explain how their current wardrobe is not working, then show people examples of what would work better. And there is also a professional Hair Sylist on the show, to help them with their look.
Once Stacey and Clinton teach them how to shop for clothing and how to dress, you can see their whole "being" transform. People who were timid and shy become more outgoing. People who were sullen, or silly, become  more upbeat and outgoing. You watch them at their reveal parties and they just strut in, twirling and proud to show off their new selves.
As a hairdresser and stylist, what means the most to me is the part of the show where the people are required to get their hair styled. So many of those men and women are attached to their hair, and fearful of changing anything about it. The women with long hair seem to be the most fearful. I must say, as a professional stylist, I understand their fear. Not everyone who has a license to cut hair is a good stylist. I have seen too many people come to me after having had their hair poorly cut by another stylist, just upset and in tears, asking me can you fix this.
Let me please say this. I invest in my business. I have been trained in some of the fines schools in the Industry, and I consistently go to seminars and training to keep my skills sharp and on the cutting edge.  Cutting hair is NOT just about technique, it is about artistry, it is about having the experience to know how to shape thin hair, versus thick hair. It's about cutting curly hair differently from straight hair. And color is another story all by itself. Think of color as chemistry. It's not like when you go to the store and buy something off the shelf. I have had to learn how to mix just the right colors, how to blend them so people's hair doesn't end up looking flat and one dimensional.
At the end of the show, after the people have gone through all of the changes, they look like and act like  whole new people, almost without exception.  If you are in a place where your look is dragging you down, then You deserve that for yourself as well!!!
Maria Armenteros
Salon Ambiance – Huntington Beach, Ca
Summer time and the livin is easy. Summer weather can make your hair fall flat from humidity, or cause  the culy hairs to  frizz. Blow dyer's make you  hot, and the ocean is cool.
 Maybe it's time for an easy maintenance, wash and go style for the summer.Whether is be short and cropped, shoulder length and angular, or longer, with bangs, so it looks good in a pony tail!!
Ginnifer Goodwin's cool summer do!!
Check out what some of these celebrities have done:
Short and sweet for the summer. Just wash, condition, a little mouse or gel and you are out the door.
Halle Barry has gone back to her short cropped look for the season, and a couple of my own clients have taken off some length to keep the back of their necks cool during the hot, lazy days of summer.
Jennifer Aniston has shortened her long locks to an edgier style bob for her summer do:
Here in Huntington Beach, we are by the beach, and we get to see all the latest styles that people are wearing for summer. As a stylist with a flair for the dramatic, I love helping my people try something new. Hair grows, so no one style has to last forever. Don't get stuck in a rut, dare to try something new.
Weddings, formals, semi-formals. It is that time of year, people get married, father's take their daughters to the Father Daughter Dances, Junior and Senior Proms, fundraising events. Women shop and shop for just the right dress for the occasion, and I asked them to do the same with their hair and make up. Once you have a dress, the very next step should be an appointment with your hairstylist. Sometimes I am not certain people are truly listening. when I write my blogs, so when I read about other professional stylists saying pretty much what I have said, it always makes me feel good.
If you did not get a chance to read my blog a couple of weeks ago, one piece of advice I gave was this: don't just plop in your stylists chair on the day of the big event, be it wedding or prom, and hope that on the first attempt you  will get  the hairstyle of your dreams. Make at least one appointment in advance to try out different styles BEFORE your special event.
 Take a look at what Kate Middelton's sylist said  in the Daily Mail,  :
"Richard Ward, who owns the London salon responsible for styling the Royal bride's hair on Friday, told how Kate, her mum Carole, 56, and sister Pippa, 27, have already had a number of dress rehearsals for their hair alone.

Richard said: 'We've had many practice runs – and not just with Kate."

Read more: http://www.dailymail.co.uk/femail/article-1381165/Royal-Wedding-Kate-Middleton-tells-hair-stylist-Prince-William-recognise-me.html#ixzz1Kkgx6QCk

 It is also critical that you end up looking like yourself. One other thing that Kate Middleton said was, it is important that William recognize her as she approaches the altar on their big day.  An intricate, fancy updo on a person who normally wears their hair long and flowing  will look unnatural. Certain dress styles call for different hair styles as well. A very structured dress may look better with hair pulled back and sleek. A loose, flowy dress will probably look better with a soft, wavy hair style.

Don't leave anything to chance on such important days, call and book a tryout session in advance.

thank you, Maria

Salon Ambiance, Huntington Beach, Ca
Hair and and skin aren't something that gets healthy and glowing just by what you put on them, they also need good nutrition and lots of water. It is important to feed your hair well!!. Now, I know that sounds silly, you can't actually feed your hair, it doesn't have a mouth, but nonetheless, what you eat, or don't eat will affect your hair.
Olive oil, fresh water, leafy green vegetables, all these things are important to good nutrition. Calcium, vitamin D and Vitamin C, all are necessary to build strong, healthy bones, teeth nails and hair. I just read an article on Lance Armstrong's site, Livestrong, that gives a detailed list of the foods good for hair:
B vitamins

B vitamins, including B6, folate, biotin and inositol, are instrumental in boosting hair health and spurring hair growth. Hair loss has been linked to a lack of B vitamins. Foods that are rich in vitamin B6 include tuna, cauliflower, mustard greens, margarine, vegetable oil, spinach, whole grains, wheat germ, liver, red and green peppers, cod and fatty fish such as salmon. Folate is found in asparagus, leafy greens, whole grains, oranges, strawberries, eggs, beans, fortified cereals and cantaloupe. Foods with biotin include soybeans, oats, green peas, walnuts, brown rice and sunflower seeds. For inositol, you can eat foods such as beets, cauliflower, eggplant, blackberries, green beans, grapefruit, limes and mandarin oranges.

Read more: http://www.livestrong.com/article/84097-foods-hair-nutrition/#ixzz1KUiARl3M

Don't forget a moderate amount of fresh air and sunshine, too. Exercise stimulates blood flow, the sun has vitamins, and the fresh air will put a blow in your skin. So, come to me for a good cut, and great color, even some fantastic products that can repair damaged hair.

 But look to your grocers for everything else you need to stay healthy, beautiful and strong.

Maria Armenteros, Huntington Beach, Salon Ambiance.