To all my Hair Salon customers, I want to offer you a special deal for our Ambiance Med Spa .
For this coming week only, we are cutting prices on our most popular treatments to help you feel as good about your skin as we make you feel about your hair!!
Take a look:
Dramatic savings !!!
$59 for a 50 minute cleansing facial
$79 for 1 hour facial includes hand and foot treatment
$125 for TCA chemical peel which hyperpigmentation, fine lines & wrinkles, it is good for all skin types gives skin a smoother more radiant appearance!
$50 Microdermabrasion
Maria Armenteros
Today I am only going to write about thankfulness. Every day I wake up, I am thankful for my friends, my family, my extended family and my loyal customers. I am thankful when I meet new people who then become loyal customers. I am thankful for the Advanced Training I received at Vidal Sassoon, and Toni & Guy. For Salon Ambiance in Huntington Beach and for Ambiance Med Spa. Most of all  I am thankful when my customers take time out of their busy day to drop me a line, through email, or Facebook to tell me they are thankful for me. This is just one of the emails I recieved in the past two weeks:
Maria,

This is Beth. I am so happy to have met you and will be using your services again in the future.  I have given your card to my friend and I will share my experience on facebook.  I think is wonderful that Mike works at Salon Ambiance in Huntington Beach, too!!  Please  tell him you know me – he has wanted my husband to come in for some time now.   Oh, I don't want to forget to let you know that Amy loves her feather!

I can not say thank you enough for repairing the damage done to my hair by the other Salon. When I went back a few days after my appointment to show them what had happened to my hair, the manager was defensive and not willing to help me, rather, I have to deal with the stylist herself – fun fun. Rather then being concerned and helpful, they said the integrity of the hair was compromised by hair dye – which I used on my roots – I never saturated the extension. Oh, well live and learn I guess.  If they had been willing to help me, even though mistakes were made, they would have had a loyal customer in me. Instead, YOU now have a satisfied, loyal customer who will refer you many new customers.
Thanks again,Maria!!!
I just read an article about people cutting their own hair to save money. Now, you would think a stylist would tell you it is a colossaly bad idea to cut your own hair. I say, go for it. Then call me, and I will fix the damage.
Yes, cutting hair is simple and easy, just grab some shears and hack away. Styling hair to make it fall properly, to look full and lush, well that takes artistry and training.
I have spent years studying to become a Master Stylist. I have spent years learning and updating my credentials to become a Master Colorist.
Sassoon training is only one aspect of my background, but I thought it might be the most recognizable to all of you. Rather then me trying to explain how it works, I thought I would quote from one of the masters. Listen to what he has to say:
DD: In manuals such as "Cutting Hair the Vidal Sassoon Way" (1978), there is a chapter entitled "The Psychology of Haircutting" with a paragraph on bone structure. How important is anatomy in hairdressing?
Vidal Sassoon: No question: analysing faces, knowing bones, studying the height of the bones before you cut and making sure that the cut will look well from every angle is extremely important. Haircutting is not just about sitting someone in a chair and going 'chop chop chop', it's really about studying the anatomy of the person you are working on.

To see the rest of the article you can go to:

http://www.dazeddigital.com/artsandculture/article/7468/1/scissors-revolution-vidal-sassoon-the-movie
Designing the best style for your hair type, the way your hair lays naturally, cutting it just right so that when you style your hair at home it looks just as good as when I style it at the salon. Being confident enough to tell you when a cut will NOT work with your hair and face. Working WITH you to make you look your best.
Ask people who have had a bad cut how much that affected their lives. To save a few bucks you can end up with weeks or months of bad hair days. I don't think that's the best way to save money, do you?
Maria Armenteros
Salon Ambiance, Huntington Beach, Ca
Check out this article from InStyle about their favorite summer cuts. The styles range from chunky pixie cuts, to more long and flowing looks. Because I am a highly trained stylist, I was very please with this particular comment on Naomi Campbells latest hair style:
Our 7 Favorite Summer Haircuts
MAY 23, 2011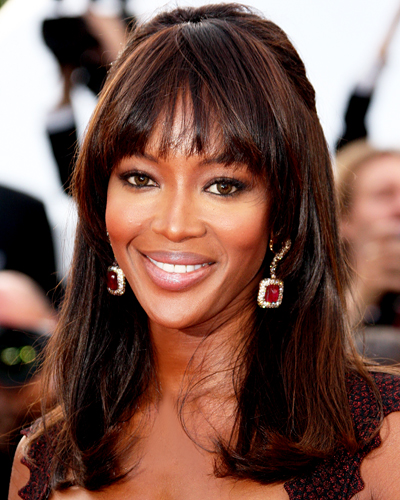 Deep Wispy Bangs
NAOMI CAMPBELL'S STYLE: One-length hair cut at the shoulders with soft bangs starting at the middle of the head.
WHAT MAKES IT COOL: "Naomi is always at events and shoots doing different things with her hair," says her hairstylist Amoy Pitters. "Because this cut has no layers, it's versatile and allows her to achieve almost any style."
WHO IT WORKS FOR: "This cut is great for heart and oval faces because it emphasizes the cheekbones and downplays the forehead," Pitters explains. "Be sure to go to a hairstylist with excellent cutting skills. There  are no layers, so it's important the length is precise."
Fashion, and  summer.When most people think of fashion and summer, they think of white. Soft, flowing white dresses, light, cool skirts…ahhhh
With my coloring, white is a great color for me. I just came across  this article at Style.com, the title was Dolce versus Pucci which intrigued me. I had to read the articles and study the pictures, and check out the looks.  Pitting two famous designers against each other.
Being a stylist,  hair is kind of my things, so even though I LOVE fashion guess what I noticed? Almost all of the  hairstyles were soft , long and sleek, with some soft curls.
Many of the  dresses were  white, very feminine, some knee length and sleek, some short and flirty All of them looked fresh and cool for the warm summer weather.
The long, silky, smooth hairstyles these ladies are wearing do not work naturally for everyone. Especially when the humidity levels rise. If you have naturally curly hair, hanging out at the beach will only make it frizzy and wavy.
A Keratin treatment or Brazilian Blow out will keep your hair shining and smooth for several weeks…
This beautiful lady came to see me, and her hair was a bit wild and frizzy when she came in, but this is how it looked when she left:
come, let me help….
Maria
Have you ever noticed, when you see pictures of some of the more famous Hollywood starlets, their hair can grow or shrink several inches between photos? It doesn't actually grow, but they do have well paid, highly sough after stylists who "grow" their hair for them. It's called Hair Extensions
You can buy cheap ones in those Kiosks at some malls, but it's best to have me put the good ones in for you. I have a training video from my supplier, it will show you everything that goes into putting on Hair extensions, take a look and tell me what you think. Or better yet, call me when it's over and I can put some in for you!!!
http://www.youtube.com/user/NXSBeauty#p/u/0/q1yxhopXHWs
Maria Armenteros
Huntington Beach
Salon Ambiance.
I was watching an episode of  "What Not to Wear"  and I thought to myself, so many people don't understand  the impact of looking good. Many of the women who come on the show know somewhere inside them selves that they have given up. They are stuck with a look from 30 years ago, or 8 sizes ago, and they just don't know how to move on!! Some have dry, unmanageable hair, and it causes them embarrasment and anquish just to get ready for an outing or a professional appointment.
On the show, the two stylists, Stacey and Clinton, work together with people to try and show them how the should dress. They first explain how their current wardrobe is not working, then show people examples of what would work better. And there is also a professional Hair Sylist on the show, to help them with their look.
Once Stacey and Clinton teach them how to shop for clothing and how to dress, you can see their whole "being" transform. People who were timid and shy become more outgoing. People who were sullen, or silly, become  more upbeat and outgoing. You watch them at their reveal parties and they just strut in, twirling and proud to show off their new selves.
As a hairdresser and stylist, what means the most to me is the part of the show where the people are required to get their hair styled. So many of those men and women are attached to their hair, and fearful of changing anything about it. The women with long hair seem to be the most fearful. I must say, as a professional stylist, I understand their fear. Not everyone who has a license to cut hair is a good stylist. I have seen too many people come to me after having had their hair poorly cut by another stylist, just upset and in tears, asking me can you fix this.
Let me please say this. I invest in my business. I have been trained in some of the fines schools in the Industry, and I consistently go to seminars and training to keep my skills sharp and on the cutting edge.  Cutting hair is NOT just about technique, it is about artistry, it is about having the experience to know how to shape thin hair, versus thick hair. It's about cutting curly hair differently from straight hair. And color is another story all by itself. Think of color as chemistry. It's not like when you go to the store and buy something off the shelf. I have had to learn how to mix just the right colors, how to blend them so people's hair doesn't end up looking flat and one dimensional.
At the end of the show, after the people have gone through all of the changes, they look like and act like  whole new people, almost without exception.  If you are in a place where your look is dragging you down, then You deserve that for yourself as well!!!
Maria Armenteros
Salon Ambiance – Huntington Beach, Ca
Summer time and the livin is easy. Summer weather can make your hair fall flat from humidity, or cause  the culy hairs to  frizz. Blow dyer's make you  hot, and the ocean is cool.
 Maybe it's time for an easy maintenance, wash and go style for the summer.Whether is be short and cropped, shoulder length and angular, or longer, with bangs, so it looks good in a pony tail!!
Ginnifer Goodwin's cool summer do!!
Check out what some of these celebrities have done:
Short and sweet for the summer. Just wash, condition, a little mouse or gel and you are out the door.
Halle Barry has gone back to her short cropped look for the season, and a couple of my own clients have taken off some length to keep the back of their necks cool during the hot, lazy days of summer.
Jennifer Aniston has shortened her long locks to an edgier style bob for her summer do:
Here in Huntington Beach, we are by the beach, and we get to see all the latest styles that people are wearing for summer. As a stylist with a flair for the dramatic, I love helping my people try something new. Hair grows, so no one style has to last forever. Don't get stuck in a rut, dare to try something new.
Hair and and skin aren't something that gets healthy and glowing just by what you put on them, they also need good nutrition and lots of water. It is important to feed your hair well!!. Now, I know that sounds silly, you can't actually feed your hair, it doesn't have a mouth, but nonetheless, what you eat, or don't eat will affect your hair.
Olive oil, fresh water, leafy green vegetables, all these things are important to good nutrition. Calcium, vitamin D and Vitamin C, all are necessary to build strong, healthy bones, teeth nails and hair. I just read an article on Lance Armstrong's site, Livestrong, that gives a detailed list of the foods good for hair:
B vitamins

B vitamins, including B6, folate, biotin and inositol, are instrumental in boosting hair health and spurring hair growth. Hair loss has been linked to a lack of B vitamins. Foods that are rich in vitamin B6 include tuna, cauliflower, mustard greens, margarine, vegetable oil, spinach, whole grains, wheat germ, liver, red and green peppers, cod and fatty fish such as salmon. Folate is found in asparagus, leafy greens, whole grains, oranges, strawberries, eggs, beans, fortified cereals and cantaloupe. Foods with biotin include soybeans, oats, green peas, walnuts, brown rice and sunflower seeds. For inositol, you can eat foods such as beets, cauliflower, eggplant, blackberries, green beans, grapefruit, limes and mandarin oranges.

Read more: http://www.livestrong.com/article/84097-foods-hair-nutrition/#ixzz1KUiARl3M

Don't forget a moderate amount of fresh air and sunshine, too. Exercise stimulates blood flow, the sun has vitamins, and the fresh air will put a blow in your skin. So, come to me for a good cut, and great color, even some fantastic products that can repair damaged hair.

 But look to your grocers for everything else you need to stay healthy, beautiful and strong.

Maria Armenteros, Huntington Beach, Salon Ambiance.
You have a wonderful formal event to attend. You know you want your hair to look extra special, but which hairstyle to choose. Long and loose, with curls, or  short and sassy? Maybe something in between?  A good hairstyle can make an outfit better.
Sometimes the hairstyle you pick out is not the right one for your dress. If you have the dress already, before the actual day of the event, it is a very good idea to bring the dress to the salon and we can work together to find the best style for you, the dress, and the occasion. Lets imagine you going to be doing a fair bit of dancing, a loose flowy style might be better then an updo. If you have a dress with lots of beading and decoration, then a simpler, more elegant style might be best.
How does your hair color look? If you are trying to cover your gray and have been coloring your hair from a box, it may lack dimension and shine. In the salon, we have products made specifically to put color and shine into your hair, with hightlights and low lights. Coloring is not just a matter of picking out a bottle of dye that looks similar to your color. It's more like a chemistry project where we mix different formulas that will give your hair color life and dimension.
Here at Salon Ambiance, in Huntington Beach, my philosophy is to first listen to my clients, then suggest what I think will work best, always keeping my clients wants and needs uppermost in my mind. 
So please don't leave these important decisions to  the last minute, or you can ruin a special day.
 Call me ahead of time and book a consultation.
Don't forget, I am running a special this week:
 Brazilian Blowout and Haircut, Normally $300,
 but for this week only the price is $200!!!
Maria Armenteros, http://www.mariaarmenteros.com/