Elizabeth Banks, soft waves, shoulder length
If you need a good haircut, well, you have come to the right place. I nicknamed my business Hair by Maria. But truly, most of the time it is Hair by Maria and You!!  You tell me the look you want, I tell you if it will suit your face  and together we make something beautiful.
Sometimes the most difficult part of my profession as a Master Sylist and Colorist is to tell someone their face and hair are just not suited for a certain style.
Fine Hair is not going to lay the same way as thick hair. Thicker hair doesn't always take to small, choppy layering as well as fine hair does. A round face will look better with some layers close to the face rather than all one length.
I do want to say that I am not someone who disregards my clients wishes and just does what I want to do. I am not talking about that. But if my people come to me and they want a style that will just not make them look beautiful, I have to work with them to find the flavor of the style they want, while giving them a cut that will let them leave my chair feeling happy and beautiful. They say that in life there must be some measure of compromise. I like to compromise. Not on the quality of my work, mind you, but on the style…
So for today, I will call my business Hair by Maria and You….
Maria Armenteros
Many times my clients come to me with a certain hairstyle in mind. While their descriptions are helpful, pictures can be worth a thousand words. Sometimes I can tell if a style will look good on them by looking at the picture they bring with them. Does the picture show a woman who has the same shaped face? Is the picture showing someone with thick hair? Is my client's hair the same type? Is the picture showing soft, loose curls, on a woman with thick, luxurious hair? If my client has thin, straight hair, then the style the come in hoping for will not work. BUT, I can work with their hair type and bone structure to give them something close, which will suit them better.
Take a look at this video, are there styles you like in here? Pick one or two and come see me, together we can make magic
http://www.instyle.com/instyle/package/summertrends/photos/0,,20480953_20497610_20968109,00.html
hair by Maria
Hair gets Frizzy for several different reasons, and you can have just one of those issues with your hair, or all of them. I won't get very technical here, but I will till you that humidity is the biggest cause of hair frizz. Some of your frizziness can be caused by over heated appliances.  The next biggest cause is poor nutrition, and last but not least is that thing we call stress. When you are under stress your body uses up nutrients more quickly, and if you do not eat properly, those nutrients are not getting put back into your system.
If you combine any of these you have a very strong chance of having frizzy hair. Many of my customers have hair that is neither curly, nor straight. It has waves. Curly  hair, as long as it is not frizzy as well, is fun, and full of whimsy. Look at these two pictures.
On the left, her hair looks dry and unmanageable, on the right, soft and pretty. You can straighten the look with one of several methods I use for my clients. It just depends upon the look you are in the mood for.
We are running a special this week on hair smoothing, offering 25% off of any type of hair smoothing you choose, from a Keratin treatment, to deep conditioning.
BUT if you just want your hair to be soft and look healthy, we don't have to straighten it, we can just do another type of treatment for you…
Give me a call at 562.972.5006     and we can talk about what you want to do, and decide the best way to go.
Or you can text me at that same number, I will get back to you as soon as I can.
thank you
Maria Armenteros
Summer Cuts…
People ask me all the time, Maria, what should I do with my hair for  the summer?
I  have customers who love their long hair.  I also have customers who love their short, sassy hair.
Then there are the ones who  like to change their styles up for each  season. They are committed neither to short,  nor long hair. In the world of hair, there are no hard and fast rules, there is simply what makes you feel beautiful. Summer is the perfect time for wash and go hair. After a day at the beach, or the pool, who wants to spend too much time in the bathroom with a hot blowdryer, styling their hair?  If I cut your hair to just about shoulder length, with a little bit of layering to keep it feeling light, it could become your perfect summer cut!!!
At shoulder length, your hair is still long enough to throw up into a chic ponytail at the beach. For after beach, it's  short enough so you can  blow it dry fairly quickly . If the summer sun, salt water, and chlorine are drying out your hair, we can also do a deep conditioning treatment to keep your hair  soft and silky all summer long.
For me, personally, I like to have options, so that  I can wear my hair in a way that reflects my mood. Casual and tousled some days, sleek and professional on others and a devil may care pony tail here and there…Here is another good summer cut for you busy girls on the run
Maria Armenteros
Check out this article from InStyle about their favorite summer cuts. The styles range from chunky pixie cuts, to more long and flowing looks. Because I am a highly trained stylist, I was very please with this particular comment on Naomi Campbells latest hair style:
Our 7 Favorite Summer Haircuts
MAY 23, 2011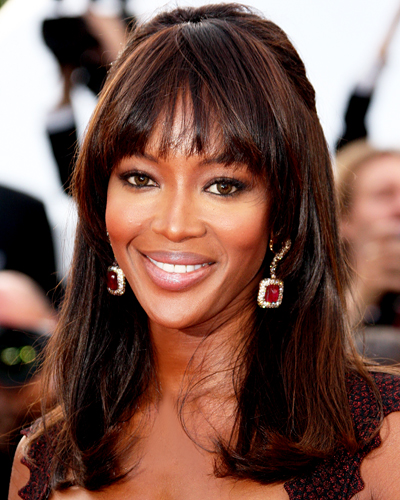 Deep Wispy Bangs
NAOMI CAMPBELL'S STYLE: One-length hair cut at the shoulders with soft bangs starting at the middle of the head.
WHAT MAKES IT COOL: "Naomi is always at events and shoots doing different things with her hair," says her hairstylist Amoy Pitters. "Because this cut has no layers, it's versatile and allows her to achieve almost any style."
WHO IT WORKS FOR: "This cut is great for heart and oval faces because it emphasizes the cheekbones and downplays the forehead," Pitters explains. "Be sure to go to a hairstylist with excellent cutting skills. There  are no layers, so it's important the length is precise."
Hair and and skin aren't something that gets healthy and glowing just by what you put on them, they also need good nutrition and lots of water. It is important to feed your hair well!!. Now, I know that sounds silly, you can't actually feed your hair, it doesn't have a mouth, but nonetheless, what you eat, or don't eat will affect your hair.
Olive oil, fresh water, leafy green vegetables, all these things are important to good nutrition. Calcium, vitamin D and Vitamin C, all are necessary to build strong, healthy bones, teeth nails and hair. I just read an article on Lance Armstrong's site, Livestrong, that gives a detailed list of the foods good for hair:
B vitamins

B vitamins, including B6, folate, biotin and inositol, are instrumental in boosting hair health and spurring hair growth. Hair loss has been linked to a lack of B vitamins. Foods that are rich in vitamin B6 include tuna, cauliflower, mustard greens, margarine, vegetable oil, spinach, whole grains, wheat germ, liver, red and green peppers, cod and fatty fish such as salmon. Folate is found in asparagus, leafy greens, whole grains, oranges, strawberries, eggs, beans, fortified cereals and cantaloupe. Foods with biotin include soybeans, oats, green peas, walnuts, brown rice and sunflower seeds. For inositol, you can eat foods such as beets, cauliflower, eggplant, blackberries, green beans, grapefruit, limes and mandarin oranges.

Read more: http://www.livestrong.com/article/84097-foods-hair-nutrition/#ixzz1KUiARl3M

Don't forget a moderate amount of fresh air and sunshine, too. Exercise stimulates blood flow, the sun has vitamins, and the fresh air will put a blow in your skin. So, come to me for a good cut, and great color, even some fantastic products that can repair damaged hair.

 But look to your grocers for everything else you need to stay healthy, beautiful and strong.

Maria Armenteros, Huntington Beach, Salon Ambiance.
You have a wonderful formal event to attend. You know you want your hair to look extra special, but which hairstyle to choose. Long and loose, with curls, or  short and sassy? Maybe something in between?  A good hairstyle can make an outfit better.
Sometimes the hairstyle you pick out is not the right one for your dress. If you have the dress already, before the actual day of the event, it is a very good idea to bring the dress to the salon and we can work together to find the best style for you, the dress, and the occasion. Lets imagine you going to be doing a fair bit of dancing, a loose flowy style might be better then an updo. If you have a dress with lots of beading and decoration, then a simpler, more elegant style might be best.
How does your hair color look? If you are trying to cover your gray and have been coloring your hair from a box, it may lack dimension and shine. In the salon, we have products made specifically to put color and shine into your hair, with hightlights and low lights. Coloring is not just a matter of picking out a bottle of dye that looks similar to your color. It's more like a chemistry project where we mix different formulas that will give your hair color life and dimension.
Here at Salon Ambiance, in Huntington Beach, my philosophy is to first listen to my clients, then suggest what I think will work best, always keeping my clients wants and needs uppermost in my mind. 
So please don't leave these important decisions to  the last minute, or you can ruin a special day.
 Call me ahead of time and book a consultation.
Don't forget, I am running a special this week:
 Brazilian Blowout and Haircut, Normally $300,
 but for this week only the price is $200!!!
Maria Armenteros, http://www.mariaarmenteros.com/
This is not my first blog about the Brazilian Blowout. But most recently I have had people come up and ask me, what is a Brazilian Blow Out?  Must you be Brazilian to get one?  How much does it cost? Will it hurt my hair  or be good for it?
 While I am not a chemist I do know that it is safe when done properly, and it leaves curly, frizzy hair soft and shining. Here is one definition I found out on the web:" By creating a protective layer of keratin(a fibrous protein that makes up 85% of the human hair structure), the Brazilian Blowout in fact improves the condition of the hair and retains the natural volume and body."  So that you can try it for yourslef, I am going to make it my special this week:
 A BRAZILIAN BLOW OUT AND HAIR  CUT  !!
NORMALLY $300.00, FOR THIS WEEK ONLY $200.00 !!
 You may have heard from some that Brazilian Blowout contains harmful chemicals. While there are hair straightening methods that use harmful chemicals like formaldehyde, that is not what makes up a Brazilian Blowout. 
Come on in and try it out!!!
Maria  562-972-5006
Though not as popular a trend as highlights, arguably due to Stylists not informing their clients of the process, lowlights can be just as useful in adding rich dimension and style to your hair. The opposite of highlights, lowlights are strands of hair that have been colored with darker colors than your overall color. If you like the look of highlights, but do not want such a dramatic look and prefer a more subtle transformation, lowlights will work seamlessly. Also, lowlights can be used to successfully break up over-highlighted hair. Like highlights, the thinner the strands are that are used, the more natural it will look, and the thicker they are, the more "funky" they will look. Once again, you and your Stylist can decide what is the best look for you.
Highlights are strands of hair that have been lightened 2 or more shades lighter than the rest of your hair and are used to accentuate different elements of your hair, such as shape and style, while also complementing your skin tone. They are meant to add dimension to your color, creating a more natural look. Likewise, highlights can also be used to create a more "funky" look, by processing thicker chunks of hair. You and your Stylist can decide which look is best for you. Before you speak to your Stylist, decide what aspect of your hair you want to improve most with your highlights. For example, if you feel your hair lacks volume and body, your Stylist can place the highlights strategically parallel to the ground to create the appearance of a fuller look. Also, if you feel your hair is looking dull and lacks shine, your Stylist can place highlights to create the look of lustrous, healthy hair. There is also the option of using a lowlight, which can be beneficial in adding to the effect you are going for.