Today I am only going to write about thankfulness. Every day I wake up, I am thankful for my friends, my family, my extended family and my loyal customers. I am thankful when I meet new people who then become loyal customers. I am thankful for the Advanced Training I received at Vidal Sassoon, and Toni & Guy. For Salon Ambiance in Huntington Beach and for Ambiance Med Spa. Most of all  I am thankful when my customers take time out of their busy day to drop me a line, through email, or Facebook to tell me they are thankful for me. This is just one of the emails I recieved in the past two weeks:
Maria,

This is Beth. I am so happy to have met you and will be using your services again in the future.  I have given your card to my friend and I will share my experience on facebook.  I think is wonderful that Mike works at Salon Ambiance in Huntington Beach, too!!  Please  tell him you know me – he has wanted my husband to come in for some time now.   Oh, I don't want to forget to let you know that Amy loves her feather!

I can not say thank you enough for repairing the damage done to my hair by the other Salon. When I went back a few days after my appointment to show them what had happened to my hair, the manager was defensive and not willing to help me, rather, I have to deal with the stylist herself – fun fun. Rather then being concerned and helpful, they said the integrity of the hair was compromised by hair dye – which I used on my roots – I never saturated the extension. Oh, well live and learn I guess.  If they had been willing to help me, even though mistakes were made, they would have had a loyal customer in me. Instead, YOU now have a satisfied, loyal customer who will refer you many new customers.
Thanks again,Maria!!!
Check out this article from InStyle about their favorite summer cuts. The styles range from chunky pixie cuts, to more long and flowing looks. Because I am a highly trained stylist, I was very please with this particular comment on Naomi Campbells latest hair style:
Our 7 Favorite Summer Haircuts
MAY 23, 2011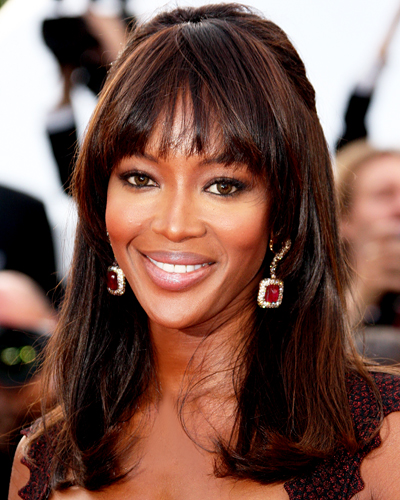 Deep Wispy Bangs
NAOMI CAMPBELL'S STYLE: One-length hair cut at the shoulders with soft bangs starting at the middle of the head.
WHAT MAKES IT COOL: "Naomi is always at events and shoots doing different things with her hair," says her hairstylist Amoy Pitters. "Because this cut has no layers, it's versatile and allows her to achieve almost any style."
WHO IT WORKS FOR: "This cut is great for heart and oval faces because it emphasizes the cheekbones and downplays the forehead," Pitters explains. "Be sure to go to a hairstylist with excellent cutting skills. There  are no layers, so it's important the length is precise."
Fashion, and  summer.When most people think of fashion and summer, they think of white. Soft, flowing white dresses, light, cool skirts…ahhhh
With my coloring, white is a great color for me. I just came across  this article at Style.com, the title was Dolce versus Pucci which intrigued me. I had to read the articles and study the pictures, and check out the looks.  Pitting two famous designers against each other.
Being a stylist,  hair is kind of my things, so even though I LOVE fashion guess what I noticed? Almost all of the  hairstyles were soft , long and sleek, with some soft curls.
Many of the  dresses were  white, very feminine, some knee length and sleek, some short and flirty All of them looked fresh and cool for the warm summer weather.
The long, silky, smooth hairstyles these ladies are wearing do not work naturally for everyone. Especially when the humidity levels rise. If you have naturally curly hair, hanging out at the beach will only make it frizzy and wavy.
A Keratin treatment or Brazilian Blow out will keep your hair shining and smooth for several weeks…
This beautiful lady came to see me, and her hair was a bit wild and frizzy when she came in, but this is how it looked when she left:
come, let me help….
Maria
I am a woman in business!! As a matter of fact I am a woman in TWO businesses!! For hair styling, I work at Salon Ambience in Huntington Beach, and to take careof the rest of your body and soul, I own http://ambiancemedspahb.com/about-us/also in Hungtington Beach.
Owning my business has felt like the right option for me. I get to run my business my way, hire good people, take excellent care of my customers and invest my time in something that gives back to my community. It is not easy owning your own business. I have heard my friends with regular jobs  say " Boy, I should open up my own business, then I can make my own hours, and just work when I want.". Most businesses that are sucessful don't work that way. My hours have to be convenient for my clients. I have to be the stylist, the cosmetologist, the book keeper, the appointment maker and the manager of several people who work in my organization.
It is not easy, and sometimes it's down right hard, but it is always rewarding and these businesses are MINE. I can change what is not working, I can implement new things, and some things I can keep the same, because that is what my clients are happy with.
I was just reading some interesting informationa about women owned business at NAWBO and I found these statistics:
Women Owned Business in the United  States:
10.1 million firms are owned by women (50% or more), employing more than 13
million people, and generating $1.9 trillion in sales as of 2008.
Three quarters of all women-owned businesses are majority owned by women
(51% or more), for a total of 7.2 million firms, employing 7.3 million people,
and generating $1.1 trillion in sales.
Women-owned firms (50% or more) account for 40% of all privately held firms.
Women Owned Business is one of the fastest growing sectors of the business community. I know why I own my businesses, I can't speak for others. For me it is all of the reasons I stated in this blog, and more. It is a sense of pride in the work I do, and the feeling I get when a customer leaves my place feeling happy, beautiful and confident!
Thank you all for supporting me in my endeavors!!
Maria Armenteros
I have been watching a little bit of American Idol, and for me, as a Spa owner and Professional Hair Stylist, I am more fascinated by the Hair and Makeup than the singing. I guess that because of my profession, that is just where my eyes land first!!!
Jennifer understands the affect of Beautiful Hair!!
I love both Jennifer's and Steven Tyler's hair. I don't want to say for certain, but I wouldn't be surprised if maybe Jennifer  has a hair  extension or two in and amongst all of  her own beautiful hair. She is of Puerto Rican descent, so her natural color is darker. Her hair is highlighted, to perfection for her warm skin tones, and I can tell she uses good products for her hair type.
Steven is another thing all together. His hair is all about sex appeal and fun. It seems each week he has more feathers in his hair. And Hair extensions? I am not sure about that. I am sure that he also takes very good care of his hair. It is shiny, and falls in gentle waves around his face.
Both of these stars know full well that hair is NOT an afterthought!! It is your fifth accessory!! Good shoes, Clear Skin, great smile, well fitting clothes, and GREAT HAIR.
I have helped so many good people who come to me with frizzy or over processed hair. I know what products to use to help them restore their hair to its natural beauty. And when mother nature does not get it quite right, well I can help with that as well. Our hair color products are some of the finest you can buy, and I have been carefully trained to use them to your best advantage!!
See you soon,
Maria Armenteros
Highlights are strands of hair that have been lightened 2 or more shades lighter than the rest of your hair and are used to accentuate different elements of your hair, such as shape and style, while also complementing your skin tone. They are meant to add dimension to your color, creating a more natural look. Likewise, highlights can also be used to create a more "funky" look, by processing thicker chunks of hair. You and your Stylist can decide which look is best for you. Before you speak to your Stylist, decide what aspect of your hair you want to improve most with your highlights. For example, if you feel your hair lacks volume and body, your Stylist can place the highlights strategically parallel to the ground to create the appearance of a fuller look. Also, if you feel your hair is looking dull and lacks shine, your Stylist can place highlights to create the look of lustrous, healthy hair. There is also the option of using a lowlight, which can be beneficial in adding to the effect you are going for.