What is Keratin Hair Treatment?
Simply put, is the latest trend for straightening and smoothing your curly hair. When professionally applied at a salon, the Keratin treatment is a safe and effective way of giving you soft, silky, straight hair that many curly haired  people dream of having.
So what exactly is in Keratin treatment? Keratin is a natural protein found in the hair, nails and skin of every living creature.Some people have more natural Keratin in their hair than others. Even with that, curly or dry hair can become frizzyand hard to manage. Hence, the Keratin treatments.
Applied in a salon setting, the Keratin product is infused into the hair follicles then sealed with a flat iron. Since it's not a chemical it doesn't frizz, dry or damage, as most straightening techniques are notorious for. It also gives your hair an external protective layer that smooths and repairs. Keratin is known to fix everything from kinky roots and straight ends to hat hair and bed head. It lasts for several weeks, and makes life a breeze for people with hard to manage hair!!
There are a host of brand names available, including Keratin Complex Smoothing Therapy by Coppola, Global Keratin Complex, the La Brasiliana treatment, Brazilian Keratin Treatment, the Brazilian Blow Out, and Brazilian Hair. Although, home treatment is not advised. Try to find a salon that offers a Keratin treatment, because they've done it enough times and have the experience and equipment to give you perfect results.
Maria is an expert at Keratin Treatments, so if you have questions about whether one would be right for your hair, give her a call.
Hair Extensions are a wonderful invention. It gives both men and women the option of changing their hair style without having to wait for their hair to grow out. But Hair extensions can be  a strain  on your scalp and existing hair.  If you wear extensions, you must make sure you have strong and full hair that is able to support them. However, it is mostly women who will  get extensions for thinning or chemically damaged hair, and although hair care products temporarily fix appearance, most don't address the issue of actual hair and scalp health.
There are several effective and lasting ways to help people with thin or breaking hair. First and probably one of the most important, even  before we get to vitamins and supplements, make sure you use a special brush to keep your naturally shedding hair from damage caused by  brushing to keep the hair  tangle free. As for nutrients, you should not only maintain a healthy diet and hair care routine to fix your present issue, but also  in order to prevent future hair thinning and loss. We recommend the Ionix hair care line, since it was specifically designed for women with hair extensions and processed hair. Try drinking more green tea and ginger, as these have natural vitamins and minerals inside them which help give your hair the strength to support your extensions. If you want to go as far as vitamin supplements, we highly recommend b12, bioten, zinc and MSM.
As a Master Stylist, I see people all the time who complain about the condition of their hair. There are many ways I can help, by showing them the right products to use, to my Laser Hair Restoral System, and by recommending dietary changes. When they follow my advice, their hair looks better, and becomes strong enough to take Hair Extensions without doing further damage to fragile hair.
I have written several blogs about hair loss over the past three years. In these times of stress, I felt it was important to let people know what the effects it has on hair loss in many of us. It also affects our overall health. But stress is not the only factor in hair loss. Genetics and environment can also strongly affect hair loss and over all health.
How many of you have noticed you hair seems to grown faster and thicker in the summer. Well it is not just your imagination. I see it in my regular clients and in my children as well. There are studies that prove light has a significant affect on hair growth.
The Power of Light
Light is energy. Since the dawn of time, the sun has been the source of all life on earth. All forms of life, no matter how primitive or how advanced, derive sustenance from life-giving light.
Scientists have long known that light has an effect on cell function. Light has the power to heal, but the lack of light can also cause serious illness. Remove a plant from sunlight and it will wither and die. Place an infant born prematurely with jaundice under a simple blue light and the symptoms are reversed.
During the summer months when we are exposed to more hours of natural sunlight we find that our hair grows faster and thicker. It is the red spectrum of sunlight that stimulates the blood supply to our scalp and causes this biological phenomenon.
Discovery of Laser Therapy
While conducting research on mice in 1964, Dr. Andre Mester of Budapest Hungary, used a low reactive laser to heal wounds that would not respond to other treatment. Using the laser, he was able to hyper-stimulate skin cell growth in the effected area, thus healing the wounds. He noticed a surprising side effect – the laser also stimulated hair growth in the treated area where longer, thicker hair appeared. In subsequent testing, both results were duplicated involving diabetic patients with wounds that would not heal.
How Does It Work?
Unlike high powered lasers that use heat to cut through tissue, low level laser therapy uses red and near-infrared light on the cool end of the light spectrum. This "cool laser" is able to penetrate deep into tissues of the scalp, stimulating micro-circulation of blood supply, cell metabolism and protein synthesis through the process of photo bio-stimulation.
Laser Hair Therapy (LHT) is a new, non-surgical, scientific approach in the treatment of hair loss, thinning hair and scalp problems. LHT has been medically tested and is FDA approved for safety and effectiveness.
Hair restoration clinics around the world have been documenting the success of the Laser Hair Therapy as an important tool to stop the progression of hair loss and stimulate hair growth. Clinical studies have shown that many benefits of Laser Hair Therapy:
Cessation      of hair loss
Increase      in hair volume
Stimulation      of the hair follicle
Promotion      of thicker, stronger and healthier hair
Strengthening      and nourishing of weak hair
Laser hair therapy has proved to be a viable option for both men and women who are in the early stages of hair loss and general thinning.
.
People sit in my chair and say, "Maria, my child is giving me gray hair!! I am so stressed that every time I take a shower or brush my hair, it comes out in clumps!!"
Can stress cause your hair to fall out? Absolutely. Stress can cause many different disruptions to your natural state. It can cause your face to break out, it can cause your fingernails to become brittle, and it can cause your hair to fall out, or turn grey.

If you continue to allow life to stress you too much, hair loss, more grey hairs and skin eruptions will become a fact of life. When you are severly stressed, you react to things in a less than positive way. It literally makes the chemicals in your body react differently than they normally would.
When you have already entered into an overstressed state,  even when something happens that is really not so critical, your body is so wound up that you can actually over react to the situation. And what does that do? It increases your stress level even more.
So, relax a little. Give yourself a time out, say no to over committing yourself, and most of all don't try to be perfect. Do the best work you can and then let it g
At hairbymaria, we do hair restoration. It works in most people, and in a few treatments, they begin to see their own healthy hair growing back in.
As for reducing stress, in  a few hours  at Ambiance Med Spa, we can help you relax. Schedule a massage and a facial, and by the time my people are finished with you, all your stress will be washed away. If you do something like that every few weeks, I guarantee your hair and skin will look better, but more importantly, you will feel better.
Even if it is not with me, take the time to get your hair washed and styled, to get a facial or a massage. The cost is not that bad and the benefits are priceless.. I bet as you read this, you can picture how good it feels to have your hair washed and styled. Just close your eyes…
Maria Armenteros
Hair gets Frizzy for several different reasons, and you can have just one of those issues with your hair, or all of them. I won't get very technical here, but I will till you that humidity is the biggest cause of hair frizz. Some of your frizziness can be caused by over heated appliances.  The next biggest cause is poor nutrition, and last but not least is that thing we call stress. When you are under stress your body uses up nutrients more quickly, and if you do not eat properly, those nutrients are not getting put back into your system.
If you combine any of these you have a very strong chance of having frizzy hair. Many of my customers have hair that is neither curly, nor straight. It has waves. Curly  hair, as long as it is not frizzy as well, is fun, and full of whimsy. Look at these two pictures.
On the left, her hair looks dry and unmanageable, on the right, soft and pretty. You can straighten the look with one of several methods I use for my clients. It just depends upon the look you are in the mood for.
We are running a special this week on hair smoothing, offering 25% off of any type of hair smoothing you choose, from a Keratin treatment, to deep conditioning.
BUT if you just want your hair to be soft and look healthy, we don't have to straighten it, we can just do another type of treatment for you…
Give me a call at 562.972.5006     and we can talk about what you want to do, and decide the best way to go.
Or you can text me at that same number, I will get back to you as soon as I can.
thank you
Maria Armenteros
Check out this article from InStyle about their favorite summer cuts. The styles range from chunky pixie cuts, to more long and flowing looks. Because I am a highly trained stylist, I was very please with this particular comment on Naomi Campbells latest hair style:
Our 7 Favorite Summer Haircuts
MAY 23, 2011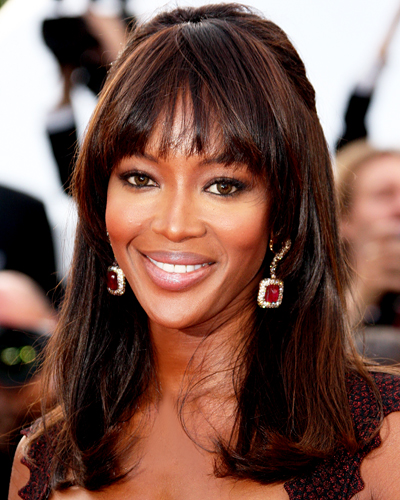 Deep Wispy Bangs
NAOMI CAMPBELL'S STYLE: One-length hair cut at the shoulders with soft bangs starting at the middle of the head.
WHAT MAKES IT COOL: "Naomi is always at events and shoots doing different things with her hair," says her hairstylist Amoy Pitters. "Because this cut has no layers, it's versatile and allows her to achieve almost any style."
WHO IT WORKS FOR: "This cut is great for heart and oval faces because it emphasizes the cheekbones and downplays the forehead," Pitters explains. "Be sure to go to a hairstylist with excellent cutting skills. There  are no layers, so it's important the length is precise."
Fashion, and  summer.When most people think of fashion and summer, they think of white. Soft, flowing white dresses, light, cool skirts…ahhhh
With my coloring, white is a great color for me. I just came across  this article at Style.com, the title was Dolce versus Pucci which intrigued me. I had to read the articles and study the pictures, and check out the looks.  Pitting two famous designers against each other.
Being a stylist,  hair is kind of my things, so even though I LOVE fashion guess what I noticed? Almost all of the  hairstyles were soft , long and sleek, with some soft curls.
Many of the  dresses were  white, very feminine, some knee length and sleek, some short and flirty All of them looked fresh and cool for the warm summer weather.
The long, silky, smooth hairstyles these ladies are wearing do not work naturally for everyone. Especially when the humidity levels rise. If you have naturally curly hair, hanging out at the beach will only make it frizzy and wavy.
A Keratin treatment or Brazilian Blow out will keep your hair shining and smooth for several weeks…
This beautiful lady came to see me, and her hair was a bit wild and frizzy when she came in, but this is how it looked when she left:
come, let me help….
Maria
I am a woman in business!! As a matter of fact I am a woman in TWO businesses!! For hair styling, I work at Salon Ambience in Huntington Beach, and to take careof the rest of your body and soul, I own http://ambiancemedspahb.com/about-us/also in Hungtington Beach.
Owning my business has felt like the right option for me. I get to run my business my way, hire good people, take excellent care of my customers and invest my time in something that gives back to my community. It is not easy owning your own business. I have heard my friends with regular jobs  say " Boy, I should open up my own business, then I can make my own hours, and just work when I want.". Most businesses that are sucessful don't work that way. My hours have to be convenient for my clients. I have to be the stylist, the cosmetologist, the book keeper, the appointment maker and the manager of several people who work in my organization.
It is not easy, and sometimes it's down right hard, but it is always rewarding and these businesses are MINE. I can change what is not working, I can implement new things, and some things I can keep the same, because that is what my clients are happy with.
I was just reading some interesting informationa about women owned business at NAWBO and I found these statistics:
Women Owned Business in the United  States:
10.1 million firms are owned by women (50% or more), employing more than 13
million people, and generating $1.9 trillion in sales as of 2008.
Three quarters of all women-owned businesses are majority owned by women
(51% or more), for a total of 7.2 million firms, employing 7.3 million people,
and generating $1.1 trillion in sales.
Women-owned firms (50% or more) account for 40% of all privately held firms.
Women Owned Business is one of the fastest growing sectors of the business community. I know why I own my businesses, I can't speak for others. For me it is all of the reasons I stated in this blog, and more. It is a sense of pride in the work I do, and the feeling I get when a customer leaves my place feeling happy, beautiful and confident!
Thank you all for supporting me in my endeavors!!
Maria Armenteros
Have you ever noticed, when you see pictures of some of the more famous Hollywood starlets, their hair can grow or shrink several inches between photos? It doesn't actually grow, but they do have well paid, highly sough after stylists who "grow" their hair for them. It's called Hair Extensions
You can buy cheap ones in those Kiosks at some malls, but it's best to have me put the good ones in for you. I have a training video from my supplier, it will show you everything that goes into putting on Hair extensions, take a look and tell me what you think. Or better yet, call me when it's over and I can put some in for you!!!
http://www.youtube.com/user/NXSBeauty#p/u/0/q1yxhopXHWs
Maria Armenteros
Huntington Beach
Salon Ambiance.
I was watching an episode of  "What Not to Wear"  and I thought to myself, so many people don't understand  the impact of looking good. Many of the women who come on the show know somewhere inside them selves that they have given up. They are stuck with a look from 30 years ago, or 8 sizes ago, and they just don't know how to move on!! Some have dry, unmanageable hair, and it causes them embarrasment and anquish just to get ready for an outing or a professional appointment.
On the show, the two stylists, Stacey and Clinton, work together with people to try and show them how the should dress. They first explain how their current wardrobe is not working, then show people examples of what would work better. And there is also a professional Hair Sylist on the show, to help them with their look.
Once Stacey and Clinton teach them how to shop for clothing and how to dress, you can see their whole "being" transform. People who were timid and shy become more outgoing. People who were sullen, or silly, become  more upbeat and outgoing. You watch them at their reveal parties and they just strut in, twirling and proud to show off their new selves.
As a hairdresser and stylist, what means the most to me is the part of the show where the people are required to get their hair styled. So many of those men and women are attached to their hair, and fearful of changing anything about it. The women with long hair seem to be the most fearful. I must say, as a professional stylist, I understand their fear. Not everyone who has a license to cut hair is a good stylist. I have seen too many people come to me after having had their hair poorly cut by another stylist, just upset and in tears, asking me can you fix this.
Let me please say this. I invest in my business. I have been trained in some of the fines schools in the Industry, and I consistently go to seminars and training to keep my skills sharp and on the cutting edge.  Cutting hair is NOT just about technique, it is about artistry, it is about having the experience to know how to shape thin hair, versus thick hair. It's about cutting curly hair differently from straight hair. And color is another story all by itself. Think of color as chemistry. It's not like when you go to the store and buy something off the shelf. I have had to learn how to mix just the right colors, how to blend them so people's hair doesn't end up looking flat and one dimensional.
At the end of the show, after the people have gone through all of the changes, they look like and act like  whole new people, almost without exception.  If you are in a place where your look is dragging you down, then You deserve that for yourself as well!!!
Maria Armenteros
Salon Ambiance – Huntington Beach, Ca