Hair gets Frizzy for several different reasons, and you can have just one of those issues with your hair, or all of them. I won't get very technical here, but I will till you that humidity is the biggest cause of hair frizz. Some of your frizziness can be caused by over heated appliances.  The next biggest cause is poor nutrition, and last but not least is that thing we call stress. When you are under stress your body uses up nutrients more quickly, and if you do not eat properly, those nutrients are not getting put back into your system.
If you combine any of these you have a very strong chance of having frizzy hair. Many of my customers have hair that is neither curly, nor straight. It has waves. Curly  hair, as long as it is not frizzy as well, is fun, and full of whimsy. Look at these two pictures.
On the left, her hair looks dry and unmanageable, on the right, soft and pretty. You can straighten the look with one of several methods I use for my clients. It just depends upon the look you are in the mood for.
We are running a special this week on hair smoothing, offering 25% off of any type of hair smoothing you choose, from a Keratin treatment, to deep conditioning.
BUT if you just want your hair to be soft and look healthy, we don't have to straighten it, we can just do another type of treatment for you…
Give me a call at 562.972.5006     and we can talk about what you want to do, and decide the best way to go.
Or you can text me at that same number, I will get back to you as soon as I can.
thank you
Maria Armenteros
You can't always judge a book by it's cover, but you probably will. Now, I love music, all types of music, and I am of Latin descent, so music affects me to my very soul. It can change my mood from happy to sad, from peaceful and content to fired up. I think it's all part of being a creative person!!
I saw a You Tube Video today of a Lady Gaga's appearance  on a  radio show, where she performed live. While I am intrigued by her personal style, most of her popular music is not the type I usually enjoy listening to. But this video that was posted on You Tube showed just her, sitting at her piano, playing and singing. It was pure, and it touched me.  The same thing happened to me when I saw Beyonce sing to the President and First Lady. I knew she was talented, but once again, not someone I listened to regularly, yet when I heard her sing "At Last", I could not believe my ears. She had power and range, way beyond anything I had heard in her popular music style.
So, you say to yourself, what the heck does this have to do with Hair, or skin care? EVERYTHING!!! Look, when an artist chooses a persona, that persona will endear them to some people, and will alienate others. The same thing goes for the rest of us mere mortals.
If your hair is dry and brittle, your skin is patchy or has blotches, people are going to be less likely to think favorably of you. YES people should be able to look beyond that and give you a chance. But I can guarantee you most  will not. Just Like I did with Lady Gaga, and Beyonce, they will judge you initially by what they see when you walk into their world for the first time.  When you leave you door, it is important to always look neat, clean and healthy.
Looking good not only helps other people see you differently, it will make YOU feel good about yourself.
Maria Armenteros
This is what I do:
I am a Master Stylist, I have a station at Salon Ambiance in Huntington Beach, CA. My background includes extensive formal training, plus I regulalry attend seminars on the lastest techniques in cut and color. That's it in short form.
I love what I do, and I hope that shows in my work. For me, styling hair is not just a trade, or a job, it is my passion. My joy in life is my family, and when someone leaves my chair feeling beautiful.
Maria Armenteros..
Salon Ambiance, Huntington Beach, Ca
All over the world, men and women are using some of the latest products and techniques to maintain a more youthful appearance as they begin to age.  For some the goal is to try and turn back time, but for others, it is just to keep their appearance fresh and healthful looking. Then there are people who, for different reasons, have some of those signs of aging come early. I have a friend whose hair was totally grey by the time she was only 28. And several clients who began losing their hair while they were comparatively young. In those situations, having hair loss treatments, or laser skin treatments is not simply about trying to look younger, but more about trying to look like their age.http://www.webmd.com/healthy-beauty/slideshow-best-kept-hair-secrets
Stress, diet and lifestyle can play a major role in the health of your hair and skin.  On the  other hand, Hair Loss and skin discoloration can often times be symptoms of disease. It is important to have it checked out by your physiscian. In the meantime, there are procedures and products avaialable at www.mariaarmenteros.com and www.ambiancemdespa.com to help you with any of these issues.
We have treatments to help stop, or prevent further hair loss , we have hair car products to help keep your hair shiny and healthy. More important, we have people who will listen to your concerns and try to find the best option for you and your health. Because what is the most important to myself and my staff is helping people to feel and look their best, everything else is the gravy on top.
Maria Armenteros
To all my Hair Salon customers, I want to offer you a special deal for our Ambiance Med Spa .
For this coming week only, we are cutting prices on our most popular treatments to help you feel as good about your skin as we make you feel about your hair!!
Take a look:
Dramatic savings !!!
$59 for a 50 minute cleansing facial
$79 for 1 hour facial includes hand and foot treatment
$125 for TCA chemical peel which hyperpigmentation, fine lines & wrinkles, it is good for all skin types gives skin a smoother more radiant appearance!
$50 Microdermabrasion
Maria Armenteros
Today I am only going to write about thankfulness. Every day I wake up, I am thankful for my friends, my family, my extended family and my loyal customers. I am thankful when I meet new people who then become loyal customers. I am thankful for the Advanced Training I received at Vidal Sassoon, and Toni & Guy. For Salon Ambiance in Huntington Beach and for Ambiance Med Spa. Most of all  I am thankful when my customers take time out of their busy day to drop me a line, through email, or Facebook to tell me they are thankful for me. This is just one of the emails I recieved in the past two weeks:
Maria,

This is Beth. I am so happy to have met you and will be using your services again in the future.  I have given your card to my friend and I will share my experience on facebook.  I think is wonderful that Mike works at Salon Ambiance in Huntington Beach, too!!  Please  tell him you know me – he has wanted my husband to come in for some time now.   Oh, I don't want to forget to let you know that Amy loves her feather!

I can not say thank you enough for repairing the damage done to my hair by the other Salon. When I went back a few days after my appointment to show them what had happened to my hair, the manager was defensive and not willing to help me, rather, I have to deal with the stylist herself – fun fun. Rather then being concerned and helpful, they said the integrity of the hair was compromised by hair dye – which I used on my roots – I never saturated the extension. Oh, well live and learn I guess.  If they had been willing to help me, even though mistakes were made, they would have had a loyal customer in me. Instead, YOU now have a satisfied, loyal customer who will refer you many new customers.
Thanks again,Maria!!!
This post is not about words , it is about the pictures, because once you see them, there is simply nothing more I need say:
This is before:
Here at Salon Ambiance, Maria Armenteros, we do Laser Hair Restoration therapy.  Did you know that lasers have been used more and more in place of other forms of treatments and surgeries over the past 20 years ? One of the benefits of Lasers is they provide intense light, which in turn is  thought to improve blood flow to the follicles and promote the growth of  hair.  They are Non-invasive and there are several different types of lasers that are used depending upon what the application will be.
Rather then try to explain this concept, I have found this quote that does a good job of keeping it simple :  "The laser that's used operates in several wavelengths including a red wavelength that is said to open the follicles and an infrared wavelength that increases blood circulation and cellular metabolism in the scalp." Often the problem with people experiencing hair loss begins with poor circulation in their scalps. Once that is remedied, hair can begin to grow.
It is not a one time procedure, but must be done over a period of time,  AT Salon Ambiance we use the lasers in conjunction with other forms of topical therapies to give you the best results possible. It does not always work for everyone, 100% of the time, but it has helped so many of our clients, if you are struggling with hair Loss, you really should give it a try.
Read below, for your convenience I have posted the information from my actual web site:
The Hair Loss Control Clinic has helped thousands of men and women combat hair loss. Through doctor-directed programs utilizing FDA-approved laser technology, combined with patented formula hair products and nutritionals, men and women all over the world have experienced continued hair growth successfully.  FEATURES:
3 Medical doctors
21+ years creating the best treatment programs available for hair loss
16+ years using Laser Hair Therapy
88 Clinics in 19 countries worldwide
unique multi-therapeutic approach
Best hair loss lasers – ask us why?
safe and effective for both men and women
individually customized treatment programs
utilizing several FDA proven products
higher strength  physician prescribed compounds offer better results
unique DHT blocking "SLS free" shampoo
free monthly check-ups and photos
We have a complete range of products that will help support the Laser Treatments themselves. No sure if this is for you? No problem, just give us a call, our initial consultation is free!!
Maria Armenteros
Salon Ambiance – Huntington Beach, Ca
I just read an article about people cutting their own hair to save money. Now, you would think a stylist would tell you it is a colossaly bad idea to cut your own hair. I say, go for it. Then call me, and I will fix the damage.
Yes, cutting hair is simple and easy, just grab some shears and hack away. Styling hair to make it fall properly, to look full and lush, well that takes artistry and training.
I have spent years studying to become a Master Stylist. I have spent years learning and updating my credentials to become a Master Colorist.
Sassoon training is only one aspect of my background, but I thought it might be the most recognizable to all of you. Rather then me trying to explain how it works, I thought I would quote from one of the masters. Listen to what he has to say:
DD: In manuals such as "Cutting Hair the Vidal Sassoon Way" (1978), there is a chapter entitled "The Psychology of Haircutting" with a paragraph on bone structure. How important is anatomy in hairdressing?
Vidal Sassoon: No question: analysing faces, knowing bones, studying the height of the bones before you cut and making sure that the cut will look well from every angle is extremely important. Haircutting is not just about sitting someone in a chair and going 'chop chop chop', it's really about studying the anatomy of the person you are working on.

To see the rest of the article you can go to:

http://www.dazeddigital.com/artsandculture/article/7468/1/scissors-revolution-vidal-sassoon-the-movie
Designing the best style for your hair type, the way your hair lays naturally, cutting it just right so that when you style your hair at home it looks just as good as when I style it at the salon. Being confident enough to tell you when a cut will NOT work with your hair and face. Working WITH you to make you look your best.
Ask people who have had a bad cut how much that affected their lives. To save a few bucks you can end up with weeks or months of bad hair days. I don't think that's the best way to save money, do you?
Maria Armenteros
Salon Ambiance, Huntington Beach, Ca
Check out this article from InStyle about their favorite summer cuts. The styles range from chunky pixie cuts, to more long and flowing looks. Because I am a highly trained stylist, I was very please with this particular comment on Naomi Campbells latest hair style:
Our 7 Favorite Summer Haircuts
MAY 23, 2011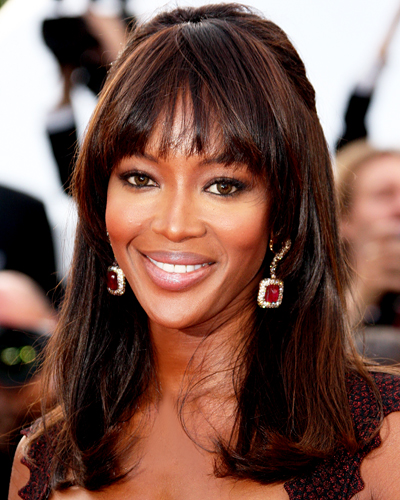 Deep Wispy Bangs
NAOMI CAMPBELL'S STYLE: One-length hair cut at the shoulders with soft bangs starting at the middle of the head.
WHAT MAKES IT COOL: "Naomi is always at events and shoots doing different things with her hair," says her hairstylist Amoy Pitters. "Because this cut has no layers, it's versatile and allows her to achieve almost any style."
WHO IT WORKS FOR: "This cut is great for heart and oval faces because it emphasizes the cheekbones and downplays the forehead," Pitters explains. "Be sure to go to a hairstylist with excellent cutting skills. There  are no layers, so it's important the length is precise."